Toyota Gets an Uber Blowback From Outraged Japanese Taxi Drivers
by and
Carmaker's tie-up with Uber jeapordizes lucrative cab business

'Toyota is sending supplies to our enemy,' taxi chairman says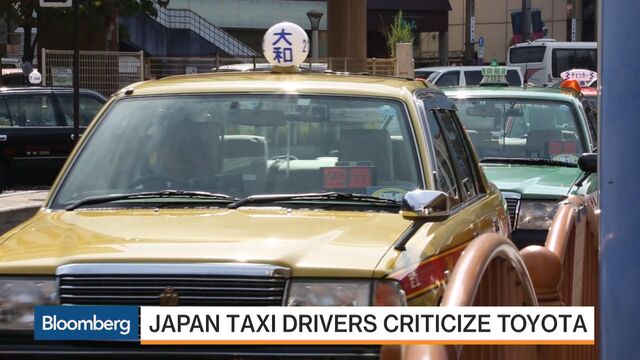 Toyota Motor Corp. turned heads in the automotive world in late May when it struck a strategic alliance with ride-sharing leader Uber Technologies Inc. At home, the move touched off a firestorm with a major constituency: Japan's taxi drivers.
The Japan Federation of Hire-Taxi Associations, which represents about 200,000 taxis nationwide, rebuked Toyota's collaboration with and investment in Uber during its annual meeting last month. Shortly after, President Akio Toyoda met and tried to reassure the federation's chairman that the tie-up won't affect Japan.
"Akio said to me, 'Please believe in Akio Toyoda, rather than Toyota,' and proposed we join hands to promote projects for the future of Japan's taxi industry," Masataka Tomita, the chairman, said in a June 23 speech posted on the federation's website. "From the eyes of Japan's taxi industry, Toyota is sending supplies to our enemy."
That kind of talk should make Toyota executives uneasy. The carmaker enjoys an 80 percent share of the nation's cab fleet, according to the taxi federation. Last year, Toyota sold 6,600 Crown Comfort and Comfort sedans to taxi companies in Japan. Tokyo's taxi companies will shift as much as 30 percent of their fleets to an LPG-powered hybrid from Toyota, purchasing about 10,000 of the new cabs in time for the 2020 Olympic Games, Ichiro Kawanabe, chairman of the Tokyo Hire-Taxi Association, said in September.
'Against Change'
Toyota's global rivals, including General Motors Co. and Volkswagen AG, have set up their own rival ride-sharing alliances. Yet the blowback to Uber and the ride-sharing revolution has been far more intense in Japan, despite calls from Prime Minister Shinzo Abe during a visit to Silicon Valley last year for his country to embrace the Internet economy or risk losing vitality.
"It's really not a regulatory issue but more a mindset issue against change," William Saito, an adviser to Abe's cabinet on innovation and technology, said by phone. "These things do throw cold water on the upcoming innovators who want to create the next startup and realize that, at some psychological level, there are some hurdles."
For an explainer on the sharing economy, click here.
Fortress Japan
Uber, valued at almost $68 billion in its most recent equity funding round, has made little headway in Japan because the country prohibits using private cars to transport passengers for profit. This limits Uber's pool of drivers to the handful of registered taxis that have been willing to work with the company.
Japan's regulations have had a chilling effect on the usefulness of Uber even in Tokyo, the world's most populous metropolitan area. In September, Uber Chief Executive Officer Travis Kalanick said on Twitter that Fayetteville, Arkansas, Sarasota, Florida and South Bend, Indiana, had surpassed Tokyo in Uber trip counts.
Uber isn't the only U.S. startup getting the cold shoulder. While Japan was Airbnb Inc.'s fastest-growing market in 2015, the home-sharing company has dispatched ex-White House crisis manager Chris Lehane and co-founder Joe Gebbia here in recent months to drum up support as local regulators debate whether to clamp down on its business model.
Toyoda's Apology
Toyota has said little about the extent of its collaboration with Uber. Along with buying a small stake in the startup, the carmaker will begin offering leases to Uber drivers, who'll be able to cover their payments with what they earn ferrying around the app's users.
Toyoda, 60, apologized for failing to notify the federation of the deal in advance, the chairman said in his speech. Toyota spokeswoman Kayo Doi declined to say whether Toyoda met with Tomita but confirmed the Uber alliance will exclude Japan due to restrictions in the country.
"Toyota's got to position itself for future sales, not protect the business objectives of the taxi federation," said Greg Tarr, founding partner of venture firm CrossPacific Capital in Palo Alto, California. While Toyota was "an attacker" when he worked for the automaker in the 1990s, it's now "nowhere to be seen" in Silicon Valley, where GM, BMW AG and Volvo Cars have been more active in engaging with startups, he said.
Uber Opening
The Japan taxi federation is worried Uber could begin to catch on in rural areas, where there are more limited options for public transportation and taxis. Nonprofit organizations and local governments are allowed to partner with Uber to provide transport services for local residents, a loophole that gave the company an opening to start services in May in Kyotango, Kyoto Prefecture.
Uber will continue to work with different localities to provide solutions to transportation challenges, spokeswoman Keiko Kitao said in an e-mail.
Rural areas embracing ride-sharing like Kyotango may become more common, and the taxi industry should work with local transportation sectors to prevent this from happening, Tomita said in his speech. The federation and Tomita's taxi company, Hinomaru Kotsu Co., declined to make him available for an interview.
The federation shares the chairman's position against ride sharing, said Masahiro Nakazaki, a spokesman for the group.
Tomita said in his speech that he accepted Toyoda's proposal to work together for the future of Japan's taxi industry. Taxi companies already have developed car-hailing apps of their own to keep Uber stifled.
"I'm still waiting for their innovative proposals to dispel our distrust," Tomita said of Toyota.
Before it's here, it's on the Bloomberg Terminal.
LEARN MORE