Standard Life Favors Linkers on BOE Efforts to Contain Brexit
by
Company also favors U.S. long-dated inflation bonds on Fed

U.K. index-linked bonds have outpeformed peers this year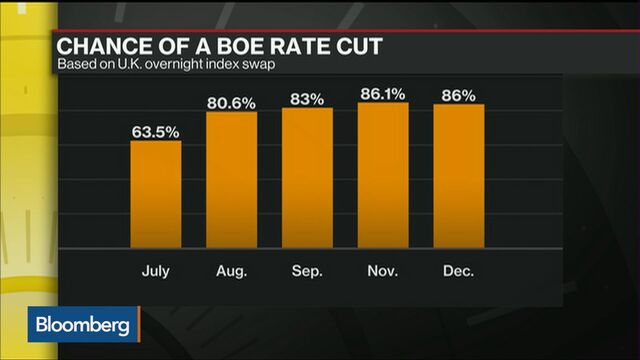 One of the best ways to cope with the economic risks engulfing the U.K. after its Brexit vote may be to buy protection from an acceleration in inflation.
That's according to Standard Life Investments, Scotland's second-largest money manager, which says it favors longer-dated U.K. index-linked bonds because potential monetary and fiscal stimulus to counter risk of a deep slump after the vote to leave the European Union will eventually boost inflation.

With consumer sentiment and business confidence plummeting, the pound near a 31-year low, and signs of strains emerging in property funds, investors are pricing in about a 78 percent chance that the Bank of England will cut interest rates at this week's meeting. Edinburgh-based Standard Life Investments also favored longer-dated U.S. Treasury Inflation-Protected Securities, or TIPS, because Brexit will reduce the chances of tighter monetary policy from the Federal Reserve.
"Brexit has changed the scenery," said Jonathan Gibbs, a senior investment specialist at Standard Life Investments which has 253 billion pounds in assets ($327 billion). "The long-term strategy has to be overweight inflation. We have long said that the longer central banks put their foot on the policy accelerator, the harder they will have to eventually slam on the brakes."
Paying Off
The strategy is already paying off. U.K. inflation-protected bonds returned 20 percent this year, beating their German and U.S. counterparts, according to Bank of America Corp. indexes. Speculation that the BOE will cut rates is benefiting inflation-linked gilts more than their nominal peers because they tend to have a longer duration and higher sensitivity to yield moves.
Sterling has been the immediate victim of the "Leave" vote, plunging to its weakest level since 1985 after the June 23 referendum. In contrast, U.K. bonds have surged, with the yield on 10-year conventional bonds dropping to a record.
The pound slid 0.4 percent to $1.2898 as of 9:09 a.m. on Monday. The FTSE 100 Index added 0.5 percent, with commodity producers leading gains.
Analysts in a Bloomberg survey see the pound falling to $1.27 by the end of the year, compared with a median forecast of $1.49 the day before polls opened. The currency depreciation will boost prices of imported goods, Gibbs said.
Above Target
"Consumer prices will probably rise above the Bank of England's target next year," said Gibbs. "Will the BOE raise interest rates? Probably not. I would expect the Bank to look through this and concentrate on growth rather than inflation in this situation."
Inflation expectations over the next five years, as implied by retail price index swaps, reached 3.07 percent on July 7, the most in more than a year based on closing prices. The 10-year break-even rate, based on yield difference between nominal and index-linked bonds, reached its highest since January last week.
HSBC Holdings Plc and Morgan Stanley suggested that investors take advantage of this development and own shorter-dated inflation-linked gilts on a potential acceleration in consumer-price growth in the near term.
"Our economists expect inflation peaking at 4 percent next year," Steve Major, head of fixed-income research at HSBC Holdings Plc in London in an interview on Bloomberg Television's "On the Move" on July 8. "That say to me you're supposed to own" short-dated U.K. inflation-linked bonds.
In contrast, Standard Life's Gibbs said he would focus on index-linked bonds with maturities of 30 years or longer.
"Trying to play short-term inflation expectations has been a false game for years and years," said Gibbs. "Inflation has stayed low longer than we have expected. We look into the longer term."
Before it's here, it's on the Bloomberg Terminal.
LEARN MORE