Spain, Portugal May Duck Deficit Fine as EU Looks to Fudge Rules
by , , and
European Commission wants credibility without being punitive

Centeno says a 'zero sanction' would be a 'positive result'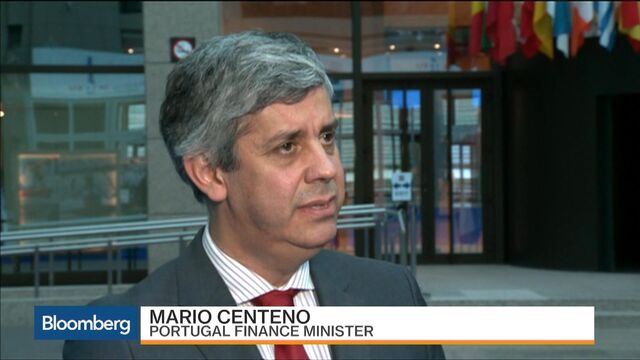 Spain and Portugal will likely just get a slap on the wrist for breaching budget deficit limits as European Union officials signaled they won't enforce punitive measures that could derail fragile recoveries.
"It's a possibility to have zero" fines, said Jeroen Dijsselbloem, the Dutch finance minister who chaired a meeting of his euro-area counterparts in Brussels on Monday. It may depend on "what proposals the countries will come up with to solve the problems."
After the two southern euro-area nations last week became the first to be deemed liable for penalties over their failure to hit targets, the European Commission is now looking for a compromise that will satisfy those who insist the EU adhere to its rules and others who say financial punishments would be counter-productive.
"It's evident that a zero sanction is a result that guarantees that there are no direct budget consequences," Portuguese Finance Minister Mario Centeno told reporters after Monday's meeting. "It's a positive result."
The 28-nation bloc's leadership is wary of fueling support for anti-establishment political forces on the heels of the U.K.'s decision to leave. At the same time -- six years after Greece received the first of its three bailouts -- the credibility of Europe's efforts to manage its finances are at stake and appearing lax could send out the wrong message.
'Intelligent' Rules
"When you have rules, you need to respect them," European Economic Affairs Commissioner Pierre Moscovici told reporters on the way into Monday's meeting. "At the same time, we can show that those rules are intelligent, that they are not a punishment, that they are not a constraint and there are ways to combine credibility and intelligence."
Q&A: EU Has a Tough Balancing Act in Weighing Spain, Portugal Fines
Euro-area finance chiefs started discussing the issue on Monday and will take a decision whether to endorse the commission's sanctions proposal on Tuesday. The commission would then have 20 days to propose a set of penalties.
"It could be useful to do all of this quickly and if possible in one go, rather than taking it step by step," Dijsselbloem said after Monday's meeting.

Any fine could be as high as 0.2 percent of the countries' gross domestic product, with a possible freezing of EU funds of as much as 0.5 percent of their annual output. But with the penalty needing to be accepted by the bloc's governments, the final punishment may be more symbolic than punitive.
"When there are rules, you keep the rules," Irish Finance Minister Michael Noonan told reporters. "It should be sufficient to have the finding that they were in breach; we're not interested in having sanctions applied to them."
Zero Fine
Spain's deficit was equivalent to 5.1 percent of its gross domestic product last year, compared with a target of 4.2 percent. Portugal's shortfall ended 2015 at 4.4 percent, higher than the 3 percent threshold for countries to fall under corrective oversight known as Excessive Deficit Procedure. The average budget shortfall for the bloc was 2.4 percent in 2015, according to the EU's statistics agency.
"We're dealing with a process that analyzes the 2013-2015 period, this isn't about Portugal's current budget situation," said Centeno, who is a member of a minority Socialist government that was sworn in at the end of November 2015. He targets a budget deficit of 2.2 percent for 2016.
Spain's Acting Economy Minister Luis de Guindos told reporters as the meeting got under way that he was hopeful of a positive decision.
"I'm more confident every day that the fine will be zero," he said.
Before it's here, it's on the Bloomberg Terminal.
LEARN MORE