markets
Psssst. The U.S. Treasury Market Flies at Midnight
More activity is taking place overnight and in futures.
By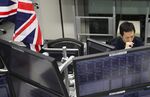 Treasury traders are increasingly operating under cover of darkness.
Global risks such as China's slowdown or the U.K.'s historic referendum to leave the European Union have turned Treasury traders into night owls, according to fresh research from JPMorgan Chase & Co. At the same time, they say, a decline in the ease of trading in the market for U.S. government debt is encouraging investors to use derivative contracts to place their overnight bets, rather than exchanging the underlying securities.
Liquidity in the market for U.S. government bonds is said to have deteriorated, owing in part to a host of new banking rules as well as to post-financial crisis monetary policy that has seen the Federal Reserve lock up large swathes of outstanding debt even as the volume of that debt increases. 
To compensate for the lack of liquidity, traders are reaching for synthetic instruments that replicate the behavior of cash bonds, according to analysts at JPMorgan, Goldman Sachs Group Inc., and Citigroup Inc. In the $13.4 trillion U.S. Treasury market, that means using futures instead of exchanging the debt itself.
More activity is taking place before U.S. markets open, they say, as traders seek to position themselves to take account of global data and investors in other time zones aim to protect a growing pool of dollar-denominated assets. That leaves a larger chunk of trading to take place in the overnight futures market.
The two trends were on full display last month on the night of the U.K.'s vote to leave the EU , according to JPMorgan analysts.

"As market depth declines, futures now outperform cash by a wider margin than was the case a few years ago," JPMorgan's Josh Younger and Jay Barry wrote in a note. "Examining this event in detail is complementary to previous work, in that Brexit was a significant macro event that was not widely anticipated by markets."
Volume during Tokyo trading hours surged on the night of the referendum to more than 20 times its recent average level, the analysts said.
"While this was true of both cash and futures markets, the latter saw the vast majority of the flow — in fact, some of the heaviest volume of the day occurred in Tokyo time, which is extremely unusual," they concluded.
Before it's here, it's on the Bloomberg Terminal.
LEARN MORE