OECD Delays Publication of Statistics to Calculate Brexit Impact
by
Says indicators can't fully account for unexpected events

Data collected before referendum pointed to stable growth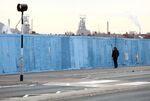 The Organization for Economic Cooperation and Development delayed the publication of some of its economic statistics, saying it needs more time to calculate the economic impact of Brexit.
The Paris-based OECD will now publish its composite leading indicators, which are designed to provide early signals of turning points in the economy, on Sept. 8 instead of today as originally planned. While data collected prior to the U.K.'s vote to leave the European Union pointed to stable growth in developed economies, the underlying data that capture post-Brexit changes in expectations won't be available until September, it said.
The indicators cannot "account for significant unforeseen or unexpected events, for example natural disasters, such as the earthquake, and subsequent events that affected Japan in March 2011," the OECD said in a statement. "The outcome of the recent 23 June referendum in the United Kingdom is another such significant unexpected event, which is affecting the underlying expectation and outturn indicators used to construct the CLIs."
The decision highlights the difficulty faced by economic policy makers in the wake of the shock vote to quit the EU. Britain's statistics office has said Brexit's effects will only fully materialize in their data in August. Bank of England officials will announce their first monetary-policy decision since the referendum on Thursday, and while they have little data to work with, most economists and investors say they are likely to cut rates.
OECD Secretary General Angel Gurria said last week that a lack of job security and wage growth is driving political fragmentation and was one of the reasons British voters opted to leave the EU. In an April report, the group said Brexit would drive up U.K. unemployment by 1.5 percentage points and cost 3 percentage points of economic expansion by 2020.
Before it's here, it's on the Bloomberg Terminal.
LEARN MORE