Nintendo Surges as Pokemon Go Downloads Top App Store Rankings
by , , and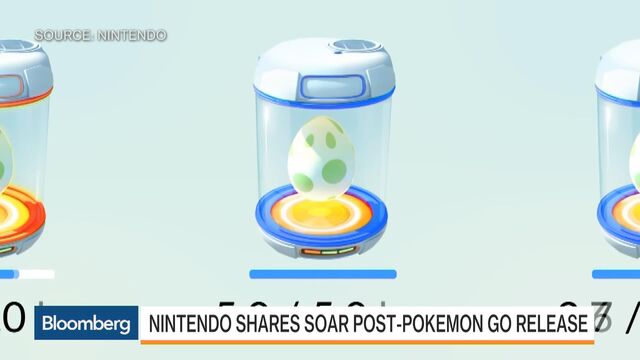 Nintendo Co. surged by its daily limit, jumping as much as 25 percent, as its new Pokemon Go game tops smartphone app rankings.
The stock jumped the most since it began trading in Tokyo in 1983, and was 24 percent higher as of 10:04 a.m. Shares of the Kyoto-based company have climbed 34 percent in the past two trading days after the release of the augmented reality game for the fantastical monster-like characters.
Pokemon Go debuted last week on iPhones and Android devices in the U.S., Australia, and New Zealand, letting players track down virtual characters in real locations using their smartphones. Nintendo is an investor in Niantic Inc., the game's developer.
After years spent resisting the consumer shift to smartphones for game play, Nintendo is trying to catch up though Niantic and also a venture with DeNA Co. for more mobile titles. The move has helped revive the company's share price after the disappointment of its Wii U console.
Before it's here, it's on the Bloomberg Terminal.
LEARN MORE