Pokemon Go Hit Underscores Nintendo's Potential in Mobile Gaming
by and
Pokemon Go tops smartphone app rankings since launch

Nintendo shares climb as much as 25% in Tokyo trading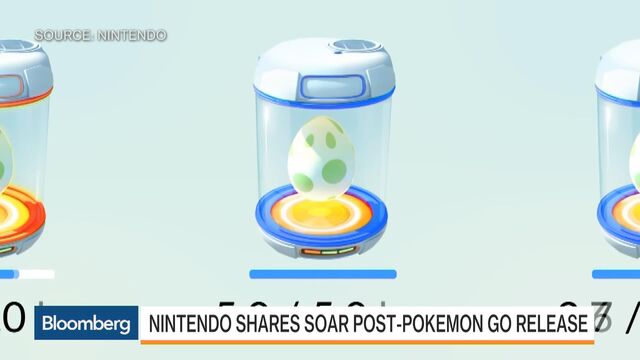 Nintendo Co. hasn't fully embraced the world of mobile gaming, but the early success of Pokemon Go is giving gamers and investors a taste of the rewards the Japanese gaming company may reap if it decides to go all in.
The maker of Super Mario and Zelda games has added more than $7 billion in market value since last week's debut of a new smartphone app for its fantasy monster character franchise. The game, which lets users track down virtual Pokemons in their vicinity, has topped the free-to-download app charts for Apple in the U.S. and Australia since its July 7 debut, according to market researcher App Annie.
In a sign of the game's broad appeal, people are going to great lengths to play Pokemon Go, which encourages users to wander their surroundings to find "pocket monsters" to train and battle with each other. Reports have surfaced of players driving for hours to seek hard-to-reach Pokemons, or a pair of gamers in New Zealand renting a kayak to nab one in the middle of Wellington's bay. U.S. highway authorities told gamers not to drive while playing with the warning "Eyes up, Poké Balls down, people," on its official Twitter feed. A late-night hunt for Pokemons in Missouri led some players into a trap set up by armed robbers, local media reported.
"This is some Nintendo magic," said Serkan Toto, founder of consultant Kantan Games Inc., which specializes in Japanese mobile games. "It's the first time a mobile game has created a buzz like this at least in the U.S. This is basically what Nintendo is all about."
The shares of Nintendo responded with their biggest intraday jump since 1983, when they listed in Tokyo, climbing 25 percent on Monday. Investors are taking Pokemon's early success as a sign that the company can still churn out hits if it commits popular characters from its Mario or Zelda franchises to mobile-gaming apps.
Pokemon Go was developed by Niantic Inc., a former Google startup behind the popular +Ingress game, which also involves location-based gameplay. Nintendo, together with its affiliate Pokemon Co. and Google, last year invested in Niantic.
"Clearly Nintendo has managed to pull off something very special that has created a craze in the mobile-gaming market in a matter of days," Amir Anvarzadeh, manager of Japanese equity sales at BGC Partners Inc., wrote in a note to clients. "This game may not be big enough to move the earnings dial in the short term, but sentiment-wise it could prove very potent at this stage for Nintendo when hopes of major success on mobile have been very deflated since last year."
For a Gadfly commentary on Nintendo's history in gaming, click here.
The Pokemon franchise is 20 years old, which means that in addition to young fans there's an entire generation of grownups who can tell the difference between a Pikachu and a Raichu. One player posted a picture on Reddit of two police officers joining an impromptu Pokemon session.
Derek Proud, who develops applications at a Sydney-based virtual reality startup StartVR Pty, has played Pokemon since it was available on Nintendo's Game Boy handheld. The 44-year-old and his son joined hundreds of players on a "Pokemon Walk" organized by fans in the city last weekend.
"We were all sort of marveling at our own nerdiness -- it was a really good feeling," Proud said. "The act of finding and collecting Pokemon is incredibly rewarding and addictive."
Pokemon Go is free-to-download and play, but additional items are available for purchase within the game. Nintendo also plans to release a plastic wristband device that will alert gamers to Pokemon activity. It is already the highest-grossing app in the U.S. and Australia, according to App Annie. The game is currently only available to users in those two countries and New Zealand.
Nintendo's first foray into smartphone apps left investors underwhelmed. Miitomo, a free-to-play smartphone messenger, debuted in April at the top of smartphone rankings before quickly declining in popularity. Nintendo said the app, which attracted more than 10 million users in its first month, will serve as communication platform and a portal for its games on mobile devices and consoles.
A smartphone hit can't come fast enough for Nintendo, which says sales of Wii U and 3DS player will decline this fiscal year, while its next-generation NX gaming device won't debut until 2017. The company's next two mobile games will be Animal Crossing, a community simulation game series where players earn currency by trading and mastering skills like fishing, and a role-playing title called Fire Emblem.
"Nintendo's history is peppered with big comebacks, when all seem lost and we have much respect for its developers to argue with these early signs of Pokemon euphoria," Anvarzadeh wrote. "Although the game is free to download, it looks well structured to potentially monetize on its early success through in-app purchases."
Pokemon is no stranger to the small screen -- it has been one of the most popular franchises for Nintendo's portable gaming machines starting with Game Boy. Pokemon X and Pokemon Y are the best selling titles for the 3DS, selling a combined 14.7 million units. Other Pokemon titles Omega Ruby and Alpha Sapphire ranked third with 11.8 million units, according to data on Nintendo's website. Pokemon games for the older DS mobile gaming device topped 46 million units.
The game has also spawned a mass of tie-in products ranging from comics and collectible cards to animated series and even a Monopoly board.
"When I ask my friends in the industry if they can remember another occasion when a mobile game shot up to the number one grossing position that quickly, no one can remember another case like this," Toto said.
Before it's here, it's on the Bloomberg Terminal.
LEARN MORE