business
May Vows to Share U.K. Prosperity in Tory Leadership Bid
By
Says monetary policy has helped homeowners at others' expense

Wants workers on company boards, changes to executive pay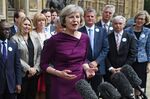 Home Secretary Theresa May pledged to share the U.K.'s prosperity more widely and change how big business operates as she fleshed out her campaign to become prime minister with a vision for a fairer economy.
Distancing herself from the Conservative administration that was on the losing side of the Brexit referendum, May pledged to put workers on company boards, make shareholder votes on executive pay binding, and force companies to publish data on the gap between executive and worker pay. Setting out a "different kind of Conservatism," she said Conservatives "don't hate the state," and "don't just believe in individualism but in society." 

"We need to reform the economy to allow more people to share in the prosperity," she wrote in the Times of London on Monday. "It is not anti-business to suggest that big business needs to change."
May is the favorite to win the party leadership and succeed Prime Minister David Cameron, who announced his intention to step down the morning after Britons voted to leave the European Union. She faces a runoff with Andrea Leadsom, the less experienced energy minister, and is pitching herself as a safe pair of hands with the toughness necessary to negotiate the U.K.'s withdrawal from Europe.
May cited government measures such as increases in value-added tax as a source of hardship for the people "who made real sacrifices after the financial crash." Monetary policy, "in the form of super-low interest rates and quantitative easing, has helped those on the property ladder at the expense of those who cannot afford to own their own home."
Before it's here, it's on the Bloomberg Terminal.
LEARN MORE