business
May to Succeed Cameron as Britain's Prime Minister on Wednesday
By and
New Tory leader pledges to 'make success' of leaving the EU

Pound, stocks rally after May's rival for leadership drops out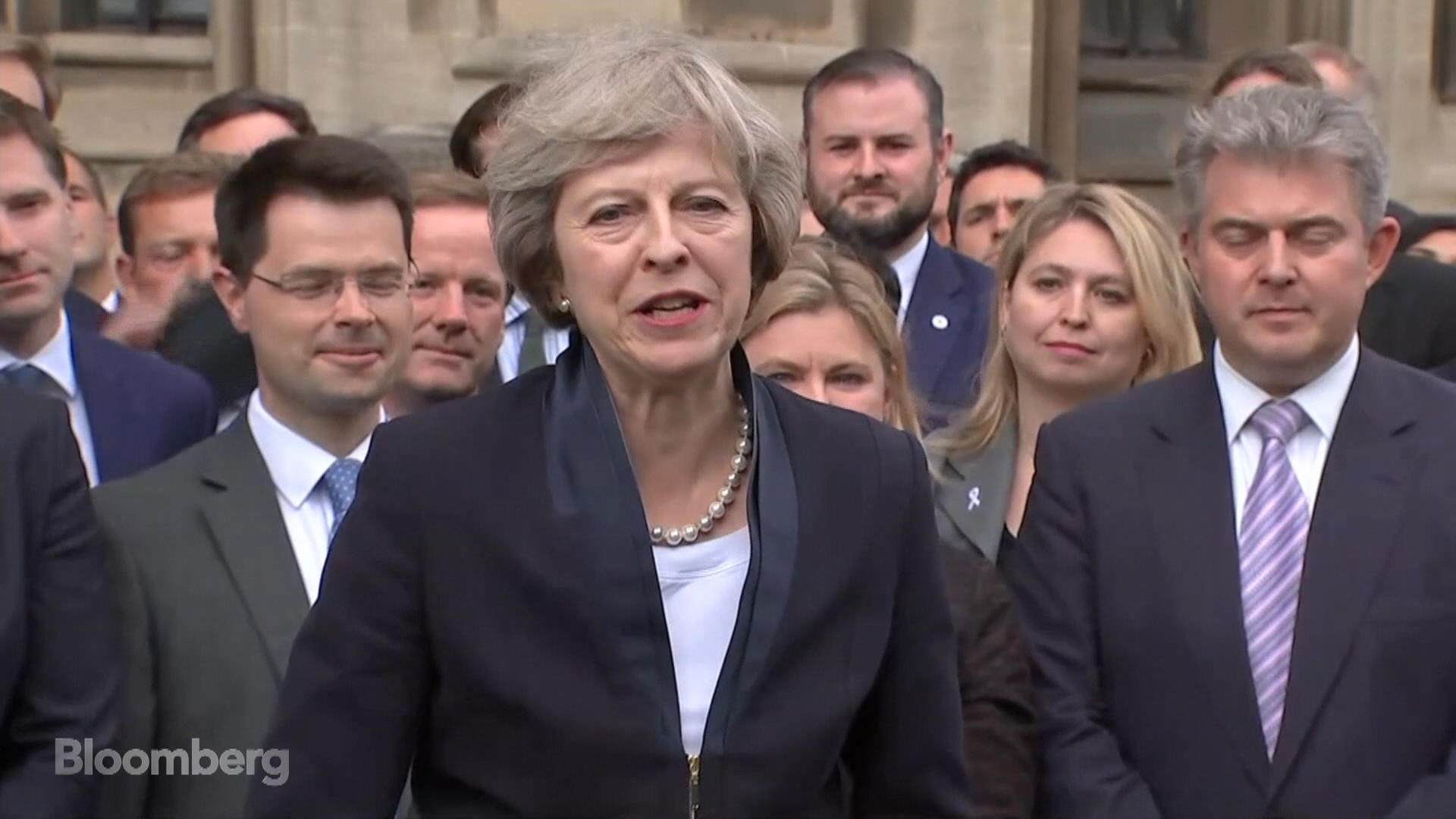 Home Secretary Theresa May will succeed David Cameron as U.K. prime minister on Wednesday after her only challenger for the role dropped out, giving her the task of steering the country out of the European Union.
QuickTake Britain Wrestles With Brexit
Cameron said he will visit Queen Elizabeth II to resign after his last question-and-answer session in the House of Commons on Wednesday. The monarch will then invite May, 59, as leader of the party with a majority in the House of Commons, to form a government.
"Brexit means Brexit, and we're going to make a success of it," May said in a televised speech on Monday. "We need a strong, new, positive vision for the future of the country -- a vision that works not for the privileged few but for every one of us -- because we're going to give people more control over their lives, and that's how together we will build a better Britain."
The pound and British stocks gained on Monday as May's rival for the leadership, Andrea Leadsom, unexpectedly announced she was pulling out of the contest.
May will take on the task of managing the country's transition out of the EU against a backdrop of gyrating markets, with the pound trading near its lowest in more than three decades. May has already warned that the U.K. should no longer try to meet its target of a budget surplus by 2020.
The latest in three weeks of political shocks saw the inexperienced Leadsom accept her leadership campaign had failed, after a weekend during which she struggled under the glare of media attention. It comes after a period of unprecedented turbulence which saw the country's foreign policy radically changed, the prime minister quit, his likely successors drop out and the leader of the opposition urged to resign.
'Strong, Competent'
"We will have a new prime minister by Wednesday evening," Cameron said in a brief statement outside his official residence in central London. "She's strong, she's competent, she's more than able to provide the leadership our country will need in the years ahead."
May was greeted by her party lawmakers at a meeting of the backbench 1922 committee in Portcullis House, across the road from Parliament. Thunderous applause and the sound of banging on the walls and tables could be heard outside the room, before May emerged to give a statement to the press outside.
"That was the sound of the party coming behind the new leader," Security Minister John Hayes said in an interview. "This is an opportunity to mark a new chapter in the Tory history."
British stocks rose, with the FTSE 100 Index climbing 1.4 percent. The pound, which had resumed its decline against the dollar over the morning, recovered on Leadsom's announcement and traded up 0.2 percent at $1.2976 at 6:44 p.m. in London.
Leadsom Risk


"The risk was that a surprise Andrea Leadsom victory in the leadership contest would lead to further in-fighting in the Conservatives and more barriers to constructive government," said Dónal Kinsella, investment director for fixed income at Henderson Global Investors in London. "The markets are likely to be more positive on Theresa May, as much for the greater political calm that her victory should engender."
In an earlier speech on Monday, May set out a pitch for leadership that moved to occupy the center ground, recognizing that many voters feel insecure and left behind by globalization. She promised crackdowns on high corporate pay and tax avoidance.
"There is an irrational, unhealthy and growing gap between what these companies pay their workers and what they pay their bosses," she said in a passage about Britain's 100 biggest companies. "Yes, we're the Conservative Party, and yes we're the party of enterprise, but that does not mean we should be prepared to accept that anything goes."
Brexit Delay
May said when she announced her bid to succeed Cameron last month that she would wait at least until next year to trigger Article 50 of the Lisbon Treaty, which would start two years of negotiations to leave the bloc.
May has opposed the idea of an early general election, but may find herself under pressure to call one, given the dramatic shifts in British politics since Cameron won last year. Labour and the Liberal Democrats both issued statements calling for an election, and the bookmaker Ladbrokes Plc slashed the odds on one being held this year.
Leadsom, who has only been in Parliament since 2010 and isn't in the cabinet, quit the leadership contest just after midday, saying her support among Tory lawmakers was not sufficient to lead a "strong and stable" government. Her decision came after she had to apologize for telling The Times newspaper that she would be a better prime minister than May because she has children. She also faced questions over claims in her resume about her previous career in finance.
Cameron, meanwhile, seemed to be embracing a care-free future. After his statement in Downing Street, he strode back into his office, his microphone catching him humming a tune -- possibly the opening to the U.S. "West Wing" drama -- and then a final comment: "Right. Good."
— With assistance by Joe Mayes, Chiara Albanese, and Charlotte Ryan
(
Updates with Cameron's tune in final paragraph.
)
Before it's here, it's on the Bloomberg Terminal.
LEARN MORE