business
May Starts Work to Steady U.K. for Brexit After Promotion
Thomas Penny
New prime minister pledges to 'make success' of leaving the EU

Key appointments of chancellor and lead negotiator expected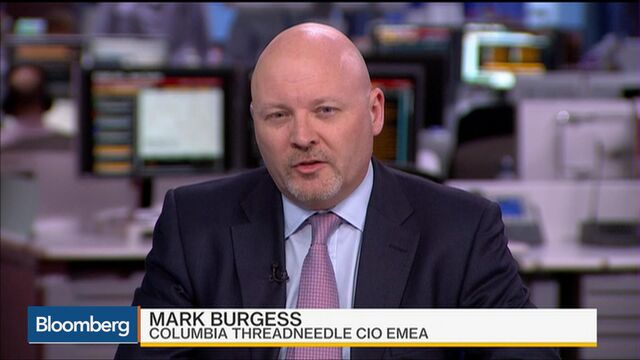 Theresa May now has just two days rather than two months to build a team to rescue the U.K. from its worst political crisis in a generation and begin extricating it from the European Union. 
May, 59, is on a fast track to succeed David Cameron as prime minister after Andrea Leadsom withdrew from the race to be Conservative Party leader on Monday. She is poised to take office by Wednesday night, having previously thought she had until the end of the leadership election on Sept. 9 to calibrate her plans.

Against one of the most daunting backdrops facing any recent British premier, May will need to decide fast who will helm the Brexit negotiations; who will try to steer the economy clear of recession as chancellor of the exchequer; and who will succeed her as home secretary to tackle immigration, the issue that dominated the referendum campaign. The Home Secretary is one of the main offices of state, responsible for immigration, policing and national security.
Plan Quickly
"Investors will want her to lay out her key Brexit negotiating objectives," Myles Bradshaw, who manages $7 billion of assets at Amundi, said in an interview. "But it will be difficult for her to do this quickly, particularly as she is a consensus candidate rather than an electoral winner."
May, who was a low-key campaigner for staying in the EU before the June 23 referendum, said recently that she would name a cabinet minister with responsibility for leading the talks. While she reiterated on Monday that she would carry through the referendum result, she has also said she favored waiting until 2017 to trigger Article 50 of the Lisbon Treaty, which starts the two-year process for withdrawing.
"She's been pretty explicit about not wanting to trigger it immediately, despite the Europeans wanting it to be right now," said Ryan Myerberg, a portfolio manager at Janus Capital in London.
As Cameron prepares to chair his final cabinet meeting Tuesday, May -- set to replace him sooner than expected -- is already facing pressure from the Brexit camp at home and leaders in Europe to work faster.
"The United Kingdom will need to sort out quickly how it wants to organize its future relationship with the European Union," German Chancellor Angela Merkel said at a reception for foreign ambassadors near Berlin late Monday. "From the German side, I can only encourage that."
Buy Time?
Foreign Secretary Philip Hammond, who was a treasury spokesman when the Tories were in opposition before 2010, is favorite to succeed George Osborne if May decides she needs a new chancellor. 
Osborne ran into criticism during the referendum campaign for warning of recession and the potential for an emergency budget in the event of a Brexit vote and May appeared to also fault him for not delivering enough "deep economic reform." She had already signaled she wants to ease up on his fiscal austerity by no longer aiming to deliver a budget surplus by 2020.
"Some people have said Hammond is an obvious choice," Tim Bale, professor of politics at Queen Mary, University of London, said in a telephone interview. "In some ways he would fit the May mold perfectly -- not particularly inspiring but a safe choice."
Radio News
Leadsom's decision to abandon the race left May's supporters visibly shocked as they lined up outside the House of Commons to show their support for their presumptive premier. May was making her way back from a speech in Birmingham, central England, at the time and heard the news on the car radio.
May will take on the task of managing the country's transition out of the EU amid unsettled financial markets, with the pound trading near its lowest in more than three decades. Chris Grayling, the Brexiteer who ran May's leadership campaign and has been tipped for a senior job in her new administration, appealed for party unity on her behalf.
Britain needs "strong, proven leadership to steer us through what will be difficult and uncertain economic and political times," May said in an email to supporters after the Conservative Party confirmed that she would be its new leader. She pledged to "negotiate the best deal for Britain in leaving the EU and to forge a new role for ourselves in the world. Brexit means Brexit and we're going to make a success of it."
Formal Steps
Cameron said he will visit Queen Elizabeth II to resign after his last question-and-answer session in the House of Commons on Wednesday. The monarch will then invite May, as leader of the party with a majority in the House of Commons, to form a government.
"We will have a new prime minister by Wednesday evening," Cameron said in a brief statement outside his official residence in central London. "She's strong, she's competent, she's more than able to provide the leadership our country will need in the years ahead."
May was met with thunderous applause and the sound of banging on the walls and tables as she walked into a meeting of the backbench 1922 committee in Portcullis House, across the road from Parliament, on Monday evening.
In her speech in Birmingham, May set out a pitch for leadership that moved to occupy the center ground, recognizing that many voters who sought Brexit feel insecure and left behind by the globalization era. A crisis in the opposition Labour Party's leadership also gives her room to try to woo its supporters.
She promised crackdowns on high corporate pay and tax avoidance, while suggesting workers should play more of a role running companies. Calling for a "proper industrial strategy," she said government should be better able to oppose predatory takeovers, citing Pfizer Inc.'s attempted takeover of AstraZeneca Plc two years ago.
May has opposed the idea of calling an election before 2020 -- when it's currently set for, -- but may find herself under pressure to call one early, given the dramatic shifts in British politics since Cameron won last year. Labour and the Liberal Democrats both issued statements calling for a ballot, and the bookmaker Ladbrokes Plc slashed the odds on one being held this year.
— With assistance by Stefania Spezzati, Alex Morales, Charlotte Ryan, Robert Hutton, and Tony Czuczka
(
Updates with cabinet meeting, Merkel comment starting in seventh paragraph.
)
Before it's here, it's on the Bloomberg Terminal.
LEARN MORE