Line Prices IPO at Top of Range in Year's Biggest Tech Debut
By , , and
Messaging app to fully exercise greenshoe to sell more stock

Shares to be sold at 3,300 apiece with debut on July 14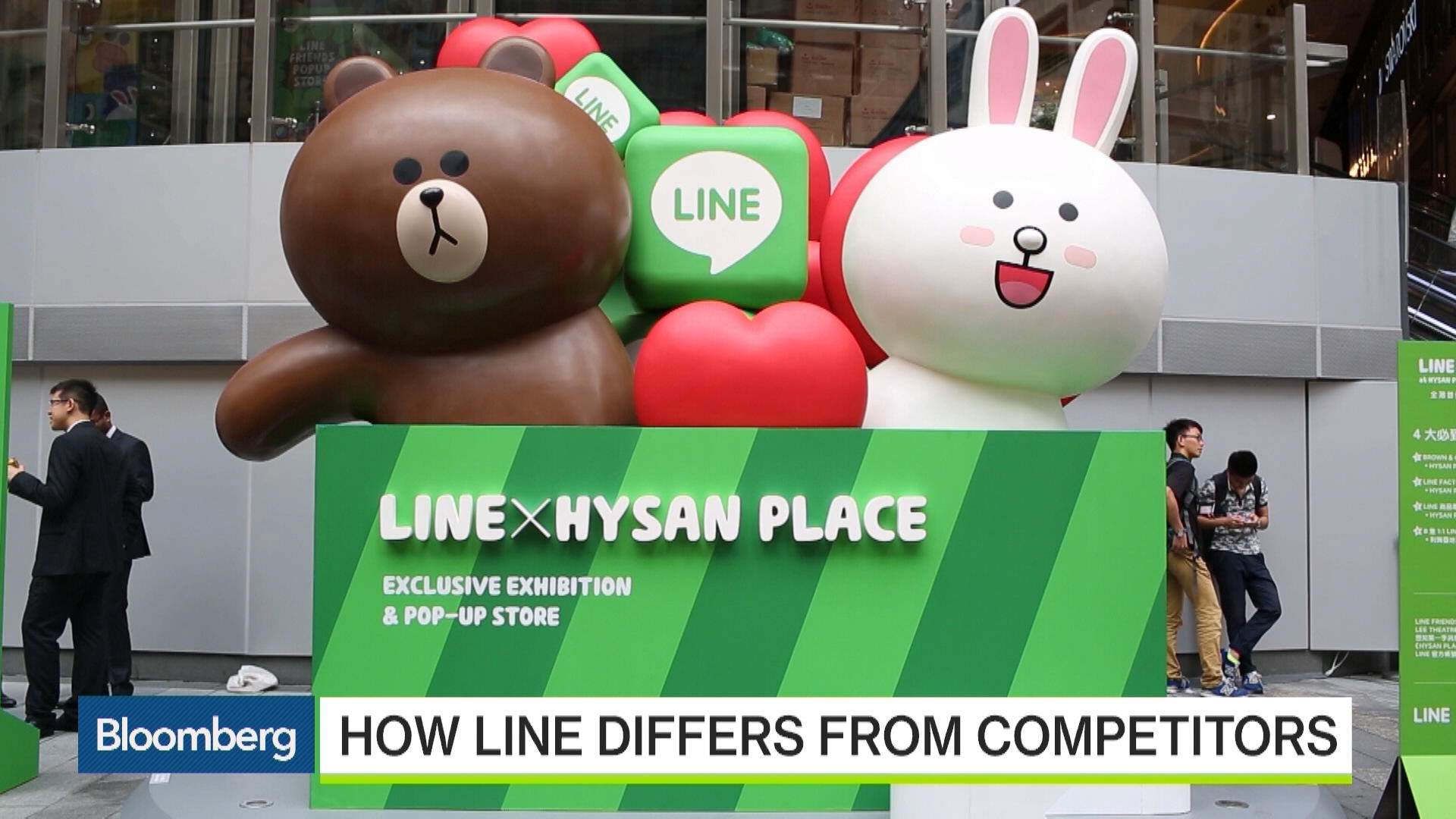 Japan's Line Corp. set the price of its initial public offering at the top of the targeted range and will exercise an option to sell more stock as investors shrug off market volatility caused by the Brexit decision.
The mobile-messaging service, owned by South Korean portal Naver Corp., will sell 35 million shares at 3,300 yen apiece, the company said Monday. It will also sell 5.25 million shares through a so-called greenshoe allowing it to increase the amount of stock sold, boosting the total raised to 132.8 billion yen ($1.3 billion).
Line announced plans for the IPO weeks before the U.K. held its vote to leave the European Union, a decision that unleashed market volatility across the world's equities and currencies. At the IPO price, the company is valued at about $6.9 billion and will be the biggest technology debut of the year.
"There's a lot of hope for Line's future as a media platform," said Hiroshi Naya, an analyst at Ichiyoshi Research Institute Inc. in Tokyo. "We've pretty much solidified which smartphone services we use and which ones we don't, and Line has really established itself as something a lot of people use everyday for communication,"
For a graphic explaining Line's ecosystem and growth, click here
The shares will begin trading in New York on July 14 and in Tokyo the next day. The company's New York traded stock was priced at $32.84, with Line selling 25.3 million shares in the U.S., including the greenshoe. Naver shares rose 0.7 percent in Seoul.
Nomura Holdings Inc., JPMorgan Chase & Co., Morgan Stanley and Goldman Sachs Group Inc. are the lead underwriters.
Line is now gearing up for a battle with far larger rivals such as Facebook Inc. and Tencent Holdings Ltd. as it looks to expand its 218 million user base beyond its strongest markets of Japan, Taiwan and Thailand. It plans to use the proceeds to spearhead an expansion across Asia and eventually the U.S.
The messaging app originally filed to go public two years ago with an expected valuation of about 1 trillion yen, people familiar with the deal said at the time. Line decided to hold off the IPO in hopes of getting a stronger reception from investors, a move that may have cost the messaging service billions of dollars in valuation as Facebook began encroaching on its turf and the market for technology company IPOs cooled.
Line debuted in 2011 and pioneered the business model of selling stickers and other digital knick-knacks that people buy and share while chatting on smartphones. User growth tapered off as Facebook's Messenger and WhatsApp and Tencent's WeChat mounted a challenge.
Sales grew 40 percent last year to 120.7 billion yen, with games, streaming music and comics accounting for 41 percent of that. But Line chalked up a net loss of 7.6 billion yen in the period, according to its IPO filing.
The moribund market for new listings has limited exit options, even though more than 160 startups are currently valued at $1 billion or more, according to CB Insights figures. No technology company has raised more than $150 million in an IPO this year, data compiled by Bloomberg show.
Before it's here, it's on the Bloomberg Terminal.
LEARN MORE