Last Woman Standing, Theresa May Offers Calm on Brexit Road
by and
New British leader not seen in hurry to trigger EU exit clause

May will take up job with pound at lowest since Thatcher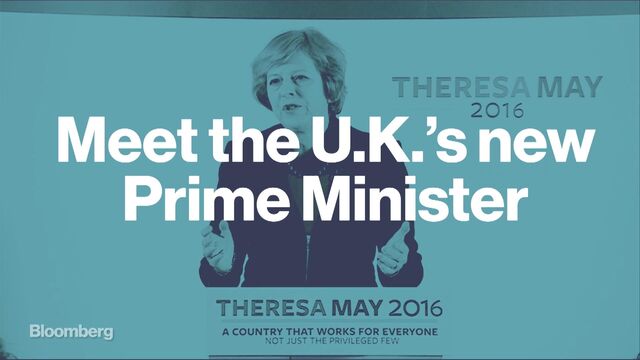 Theresa May was headed back to London from the English Midlands when she learned of her impending appointment as Britain's next prime minister. She had just delivered the first and, as it turned out, only speech of her campaign to land the job.
That moment -- winning the race to lead the governing Conservative Party after her remaining opponent unexpectedly dropped out -- summed up much of the 59-year-old Home Secretary's journey to the top of U.K. politics: Focusing on competence while her rivals imploded around her. Hers was one of the main offices of state, responsible for immigration, policing and national security.
WATCH BLOOMBERG TV LIVE: Including coverage of U.K. political handover
Now she's arrived, the woman one Conservative veteran last week called "bloody difficult" will have to show exactly how unflappable she is. With the country convulsing from its decision to leave the European Union and the leaders of the Brexit campaign sidelined, May will have to resist pressure to rush into departure negotiations. She also needs to calm investors who sent the pound down to its lowest against the dollar since Margaret Thatcher, Britain's last female prime minister, was in power in the 1980s.
Many of the first observations about May contrast with her defeated rivals. She lacks former London mayor Boris Johnson's runaway charisma, Chancellor of the Exchequer George Osborne's political calculation, Brexit spearhead Michael Gove's ideological zeal or party leadership opponent Andrea Leadsom's Euroskeptic credentials. It's unclear what roles they will play in the new administration.
No Gossip
"I know I'm not a showy politician," May said when she announced her candidacy two weeks ago. "I don't tour the television studios. I don't gossip about people over lunch. I don't go drinking in Parliament's bars. I don't often wear my heart on my sleeve. I just get on with the job in front of me."
But she is more than the quiet person left standing. Her career has been marked by moments of political courage. In 2002, having been appointed Tory Chairwoman, in charge of running the party machinery and motivating activists, she astonished the Conservative conference by telling them that voters saw them as "the nasty party." Then in 2014, as Home Secretary, she told the police officers' union that they had to "face up to reality" and tackle abuses within their ranks. They were furious.
FULL COVERAGE: Theresa May's confirmation as PM
Given the circumstances, May will need that toughness. Her premiership is likely to be dominated by negotiations with European leaders, many of whom are urging Britain to get on with it and trigger Article 50, the formal start of two years of Brexit talks. Then there's the recession that the Treasury warned would accompany a vote to leave the EU and also Scotland's possible push for a second independence referendum.
"The prevailing view is that she is a pragmatist," said Ben Kumar, investment manager at Seven Investment Management LLP. "She has probably had an eye on being prime minister for a while, but she will takes things slowly."
Safe Hands?
While May's tepid opposition to Brexit could help her in talks with fellow leaders, it will be a problem at home with those in her party who backed leaving. They may blame her for a failure to deliver on their promises.
"She's trying to be seen as the leader who is putting a safe and competent pair of hands on the tiller during what is a very volatile period in British political history," said Matthew Goodwin, professor of politics at Kent University. "I suspect however that she also has longer-term ambitions, in terms of reshaping the nation and making sure that Conservatism is as dominant on the center-ground of British politics."
May entered parliament in 1997 after an election that saw the Conservatives pummeled by Tony Blair's Labour Party. Before then, she worked in finance for 20 years, firstly at the Bank of England and then at the Association for Payment Clearing Services.
According to her pitch to be prime minister, her approach is to slow things down and deliver "political stability and economic certainty." She's rejected the idea of an immediate general election, and she has also ruled out triggering Article 50 this year, saying that Britain's negotiations need to "agreed and clear" first.
Daughters of Clergymen
That will give her a chance to build alliances, chiefly with the most important player, Germany's Angela Merkel and a fellow clergyman's daughter. While Merkel had repeatedly ruled out informal negotiations, May will hope that she can have exactly such talks.
May has set out what would be her opening gambit: As much access as possible to the EU's single market, and an end to the freedom of EU citizens to live and work in the U.K. With EU leaders saying that market access is indivisible from free movement, these objectives are superficially incompatible.
Domestically, May could have it easier. Labour lawmakers, convinced leader Jeremy Corbyn is steering them to disaster, are trying to depose him, a task made more difficult because of the support he enjoys among party activists. Absorbed with its internal battles, the party has left May with a clear field to dominate the political center ground.
She has offered some details of her economic vision, backing the Treasury using bonds to fund infrastructure projects and saying she wanted the government to focus on tackling the U.K.'s lack of productivity growth.
There were also policies that might have come from Labour: Binding shareholder votes on executive remuneration; more transparency on that pay; a crackdown on anti-competitive practices by utility companies and banks; forcing multinationals to pay more tax; protecting national industrial champions.
Her speech accepting the job of party leader suggested she plans to make the most of the opportunity. "We need a strong new positive vision for the future of our country," she said. "A vision for a country that works not for the privileged few but that works for every one of us because we're going to give people, more control over their lives."
Before it's here, it's on the Bloomberg Terminal.
LEARN MORE