Investors Are at Their Most Negative on European ABS Since 2009
Britain's vote to leave the European Union is the latest impediment to the recovery of Europe's asset-backed securities market.
by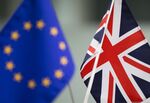 The world was a very different place last time investors felt this negatively about Europe's asset-backed securities. 

Treasury yields were above three percent, the pound was one of the world's best performing major currencies, and securitization was still a dirty word. The asset-backed security, a poster child for the causes of the recent financial crisis, was denounced as a toxic product polluting investor portfolios and contaminating banks' balance sheets.
The 366.3 billion-euro ($404 billion) market for the debt in Europe has come a long way since then, with policy makers including the Bank of England and the European Central Bank now promoting ABS as a tool to stimulate lending. Yet thanks both to tougher regulations and to Britain's vote to leave the European Union, the market is now as disquieted as it was seven years ago, according to JPMorgan Chase & Co.
JPMorgan's ABS Confidence Index, which is based on a regular survey of investors, shows ABS-buyers are their most negative since early 2009, and that they view current market conditions as 'poor'.
The latest reading is -3.3, down from -2.2 at the end of 2015, and -0.8 one year ago. A result of +10 implies a unanimous response of 'excellent', while -10 means conditions are seen as 'disastrous'.

Brexit is the latest impediment to the recovery of the ABS market, which has struggled to regain its stride since seizing up during the crisis. Yet, it's still a long way from a 2008-style 'disaster' and policy makers are no longer blasting the securitization industry for the "perverse incentives, needless opacity and shamefully lax standards" that "caused so much damage to the global banking system."

In fact it's arguable that these days, the industry is grumbling precisely because regulators are getting on the case. 
Before it's here, it's on the Bloomberg Terminal.
LEARN MORE