IMF Urges Action on Italy's Retail Investors' Bank Bail-In
by
International Monetary Fund notes 'very high' levels of NPLs

Financial sector reforms key to entrench stability, IMF says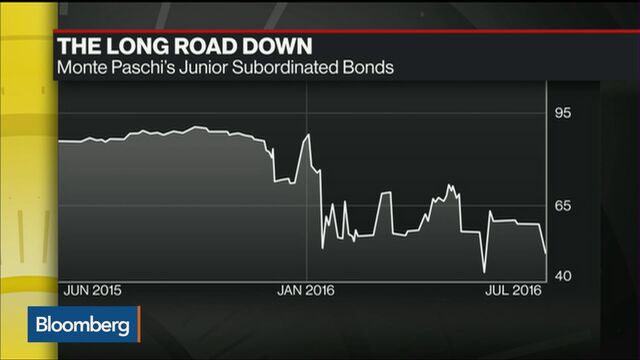 The International Monetary Fund called for action over concerns relating to the bail-in of retail investors in Italy, noting that "very high" amounts of non-performing loans and slow judicial processes were straining bank balance sheets.
QuickTake Europe's Banking Union
Financial industry reforms "are critical to entrench financial stability and support the recovery," the IMF said in a statement following its regular review of the Italian economy. The Washington-based fund said that NPLs appeared to be stabilizing at around 18 percent of total loans.
The IMF said "concerns related to the bail-in of retail investors should be dealt with appropriately."
Talks between Italy and the European Commission to recapitalize Banca Monte dei Paschi di Siena SpA and other banks are stuck on whether creditors should face losses if taxpayer funds are used, according to people familiar with the discussions. Rules that took full effect this year require bondholders and shareholders to absorb losses in failing lenders in the event of a rescue, a process dubbed a "bail-in."
Italy favors a precautionary recapitalization under the European Union's bank-resolution rules, which allow governments to bolster lenders when capital gaps emerge in stress tests, said the people, who asked not be identified because the talks are private.
"After what happened with the departure of the U.K., in my view it's fundamental that there should be common sense in Europe," Prime Minister Matteo Renzi said in a broadcast interview Tuesday, referring to the June 23 Brexit vote. He called on banks to "return to lending to artisans and small businesses" while there should "rules that are a little more logical, a little clearer, a little more humane."
Shore Up
Italian authorities are racing to shore up a financial system burdened by about 360 billion euros ($398 billion) of troubled loans, amid the ECB's increasing pressure on Italian lenders to clean up their balance sheets and tackle troubled loans that are undermining lending.
The IMF also urged measures including more intensive use of out-of-court debt restructuring mechanisms, strengthened supervision, and a systematic assessment of asset quality for banks not already subject to comprehensive assessment by the European Central Bank.
Italy's economic recovery "is likely to be prolonged and subject to risks," with growth projected to reach 1.1 percent this year and 1.3 percent in 2017, the IMF said.
Risks Downside
"Risks are tilted to the downside, including from financial market volatility, the refugee surge, and headwinds from the slowdown in global trade," the fund's statement said. "This growth path would imply a return to pre-crisis (2007) output levels only by the mid-2020s and a widening of Italy's income gap with the faster growing euro area average."
The IMF said "public debt has edged up to close to 133 percent of GDP, a level that limits the fiscal space to respond to shocks."
Debt dynamics are expected to decline only gradually in coming years and remain vulnerable to shocks, the IMF said. It urged authorities to act faster on pro-growth reforms with "greater priority to lower and more efficient spending and less distortive taxation, including broadening the tax base and introducing a modern real estate tax."
Before it's here, it's on the Bloomberg Terminal.
LEARN MORE