Fixing European Banks With a U.S.-Style Solution? Not So Fast
by , , , and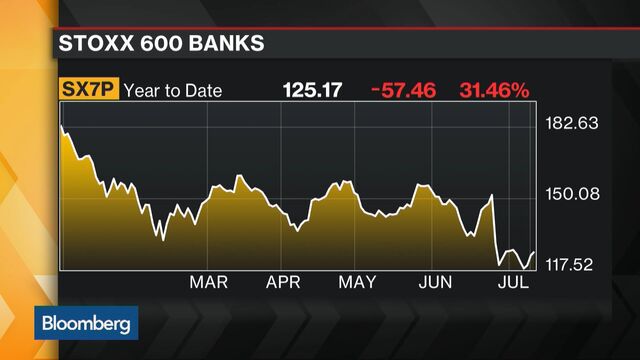 The U.S. began fixing its banks in the 2008 financial crisis by forcing them to take a bailout. While some European countries rescued their troubled lenders, officials hoped that others would digest their soured loans when the economy bounced back. Many didn't and now investors are asking whether Europe will follow the U.S.
How did the U.S. recapitalize its banks?


Lawmakers created the Troubled Asset Relief Program, or TARP, in October 2008 to buy their stock and troubled assets after the collapse of the housing market wiped out Lehman Brothers Holdings Inc. That propped up struggling lenders, helping to restore confidence that enabled banks to raise more than $100 billion in new capital from private investors. The Treasury Dept. ultimately recouped the biggest TARP bank bailouts, making billions of dollars of profit into the bargain.
Should Europe follow suit?
Yes, say BlackRock Inc. Vice Chairman Philipp Hildebrand and Deutsche Bank AG Chief Economist David Folkerts-Landau. Governments should be allowed to take temporary equity stakes in banks, Hildebrand told the Financial Times last week. Folkerts-Landau told German newspaper Welt that Europe needs a 150 billion-euro ($166 billion) bailout fund to recapitalize its banks.
Would that be enough?


Who knows? Frederik Ducrozet, senior economist Europe at Pictet Wealth Management said he thinks 150 billion euros is "too big a number" if it doesn't include guarantees. Italy is considering measures that may inject as much as 40 billion euros ($44 billion) into banks, possibly by providing capital or pledging guarantees, a person with knowledge of the matter said last month. Of the $700 billion authorized for TARP, the Treasury Dept. spent about $442 billion, according to a Congressional Budget Office review in March.
Will it come to a Europe-wide rescue?
Opinion is divided. European officials haven't actually publicly said the region's banks need rescuing. Dutch Finance Minister Jeroen Dijsselbloem, who leads the group of finance ministers, said he's not particularly worried about Italian banks and "there will be no big solutions."
Where are the problems in Europe?


Mainly Italy. Banks there have 360 billion euros of non-performing loans. Investors are also concerned slower growth across the region after the U.K.'s decision to leave the European Union could hurt banks in other countries already struggling with low interest rates. Recent market turmoil and rising legal costs mean other banks, including Deutsche Bank, may find it harder to raise capital levels to meet future regulatory requirements.
Are there tools that could be used?


Yes, Italy already has a bank rescue fund, called Atlante. The European Union has had funds for bailing out governments since 2010 and set up a mechanism for winding down failed banks last year. Still, they're "imperfect and not flexible enough," says Ducrozet, at Pictet in Geneva.
Will the Europeans push for a joint agreement?
Probably not. "We're more likely to see national solutions because even if we have joint supervision, the level of coordination for a Europe-wide fund just isn't there," says Thomas Neuhold, who helps manage about 8 billion euros including bank bonds at Gutmann Kapitalanlage in Vienna. "A euro zone-wide TARP doesn't really appear to be a particularly good option here," said Claus Vistesen, economist at Pantheon Macro. "Things need to get worse before that comes in. It is not certain that throwing more money at the banks as a whole will help a lot."
What's stopping politicians from acting on their own?


The rules. Legislation that took effect last year prevents national governments from injecting capital into banks unless shareholders and bondholders first take losses equivalent to 8 percent of the bank's liabilities. In Italy, which faces a referendum to overhaul its political system this year, many bank bondholders are retail clients, hence the lack of political will to impose losses on potential voters.
What are Italians saying?
There's a loophole. EU rules provide for precautionary intervention on capital with reference to the results of stress tests, Bank of Italy Governor Ignazio Visco said July 8. Those results are scheduled to be published on July 29. Italy is looking to pump capital into Banca Monte dei Paschi di Siena SpA if the tests uncover a shortfall, according to a person with knowledge of the plan who asked not to be identified as it isn't public.
What could a European compromise look like?
A combination of losses for creditors and capital injection from an existing European bailout fund, according to Harald Benink, a banking and finance professor at Tilburg University in the Netherlands. "That could stabilize the whole mess," he says.
Strings attached?
Probably, says Raj Badiani, an economist at IHS Economics. "A lot of EU conditionality would be attached to any EU assistance, with Italy having to produce a timeline for reform and consolidation of its banking sector," Badiani says. "The financing of a new EU banks rescue fund would be a major challenge, with many countries already hampered by excessive public debt burdens."
What do other politicians and supervisors say?
German Finance Minister Wolfgang Schaeuble says he expects Italy to stick to rules on avoiding government bailouts for banks. European Central Bank Vice President Vitor Constancio said policy makers should consider allowing "small public support" for banks burdened by crisis-era soured loans to improve financial stability.
Before it's here, it's on the Bloomberg Terminal.
LEARN MORE