Fed's George Resumes Her Rate-Hike Push After Strong Jobs Report
By
KC Fed president says long-term 'normal' rate may have dropped

Says growth challenges require policies outside Fed's realm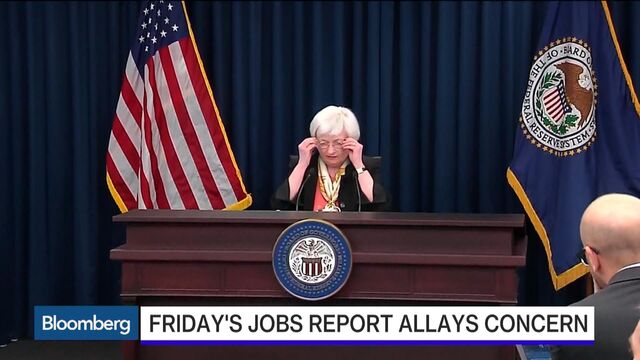 Federal Reserve Bank of Kansas City President Esther George has resumed her advocacy for interest-rate increases, citing the June rebound in U.S. hiring as a key reason to push rates further above zero.
"The economy is at or near full employment" said George, a voter this year on the policy-making Federal Open Market Committee, in a speech Monday in Lake Ozark, Missouri. "And yet short-term interest rates remain at historic lows. Keeping rates too low can also create risks."
George, who voted with her colleagues to leave rates unchanged last month, is considered one of the most hawkish members of the FOMC. She has dissented at two of the committee's four meetings this year in favor of higher rates. The FOMC has left the target range for the benchmark federal funds rate unchanged at 0.25 percent to 0.5 percent since December, when it hiked for the first time in almost 10 years. 
George explained to the audience that she didn't dissent at the June 14-15 FOMC meeting because a disappointing U.S. payrolls report for May, as well as Britain's looming referendum on European Union membership, had given her pause.
Mixed Signals
The Fed is weighing volatile signals from the U.S. labor market and continued worries over global economic and financial conditions. The Labor Department said Friday that employers added 287,000 jobs in June, the most in eight months. That bumper report followed May's reading, which was the worst since 2010, with just 11,000 new jobs added.
Officials are also still trying to gauge the impact of the U.K.'s decision in a June 23 referendum to leave the EU. Bond yields have been driven to record lows since the vote as investors worldwide have flooded into safe-haven securities, with the yield on U.S. Treasury notes down by around 0.35 percentage point.
The Kansas City Fed chief said the May employment report, in particular, had caused her to question whether a more persistent slowing was afoot, but that concern was eased by the rebound in June. The FOMC is scheduled to meet next on July 26-27 in Washington.
George, who has headed the Kansas City Fed since 2011, argued that those calling for the Fed to keep rates steady risked raising unreasonable expectations about what monetary policy can achieve.
"It may be wrongly signaling that we can fix something" that central bankers can't address, she said.
Part of the onus for spurring economic growth should fall to fiscal authorities who can bring about tax policy changes, regulatory reforms and spending in areas like education and training, George said.
Referring to levels of unemployment and inflation being close to Fed targets, she said, "I would argue by those measures the Fed has largely achieved what it can do right now."
Before it's here, it's on the Bloomberg Terminal.
LEARN MORE