Eagle Challenges Corbyn for Leadership of U.K. Labour Party
by and
Corbyn has vowed to stand against any challengers for job

Leader lost backing of lawmakers; retains grassroots support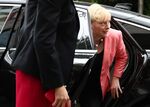 Angela Eagle challenged Jeremy Corbyn for the leadership of the opposition Labour Party, adding to the turmoil in British politics unleashed by last month's vote to leave the European Union.
"These are dark times for Labour and these are dangerous times for our country," Eagle, the party's former business spokeswoman, said Monday in a speech in London. "I wouldn't do this if I didn't think I had something to offer to bring our party and our country back together. And I wouldn't do this if I didn't think I couldn't be a good prime minister for Britain."

Eagle's challenge came minutes before Energy Minister Andrea Leadsom withdrew from the race to succeed Prime Minister David Cameron, paving the way for the only remaining candidate, Theresa May, to lead the country as it negotiates a Brexit.
Over the past two weeks, Corbyn has lost a no-confidence ballot among his lawmakers by 172 votes to 40 and suffered the resignations of about 60 members of his front-bench team, leaving him unable to fill all the posts in his so-called shadow cabinet. He's nevertheless refused calls to resign, insisting he has the backing of the party's grassroots. Labour leaders are elected on a one-member-one-vote basis.
'Going Places'
"You would be surprised how much support there is out there from people who feel that I was elected a year ago with a very large majority and a very large mandate," Corbyn said in an interview on the BBC's "Andrew Marr Show" on Sunday. "We're a party that's going places and doing very well actually."
Lawmakers had hoped Corbyn would resign to prevent him from standing in any leadership vote. Labour rules state that any challenger requires the nominations of at least 20 percent of the party's House of Commons lawmakers and members of the European Parliament -- or about 50 legislators.
Party members are debating whether the sitting leader also needs those nominations, which the results of the no-confidence vote suggest Corbyn would struggle to muster. Corbyn says he's been consulting lawyers and is confident of his position. Labour's National Executive Committee will meet on Tuesday to decide on the process.
"It's quite clear to me from the rules that the section on any nominations refers to challengers," Christine Shawcroft, a member of the NEC, said Monday in a BBC Radio interview. The implication of that is that Corbyn would have an automatic spot on the ballot.
Party Divisions
In a sign of the divisions within the party, Paul Davies, the vice chair of the party in Eagle's own Wallasey constituency, indicated his support for the current leader.
"Most of us are quite clear what the rules are saying, and the only reason we're having this argument is that Jeremy Corbyn's opponents want to keep him off the ballot paper, because that's their only hope of winning," Davies told the BBC. "I don't think people will think if Angela Eagle wins the leadership without Jeremy Corbyn being on the ballot paper that's fair. And I don't think they'll think it's democracy."
While Corbyn, a hard-line socialist, has never been popular among Labour MPs, he was elected leader less than a year ago with the backing of 60 percent of party members. Labour lawmakers who have deserted Corbyn blame him for failing to galvanize Labour voters to reject a Brexit, citing it as proof he's unable to lead the party to win a general election.
"We have never just been a parliamentary party or just a movement: we are both," Eagle said. "Everything we're proud of, from the National Health Service, to the minimum wage, to equality legislation, is there because we were in government."
Before it's here, it's on the Bloomberg Terminal.
LEARN MORE