Brexit-Induced Plunge in European Bank Shares Threatens to Cripple the Continent's Credit Creation
Share prices tend to lead loan growth.
By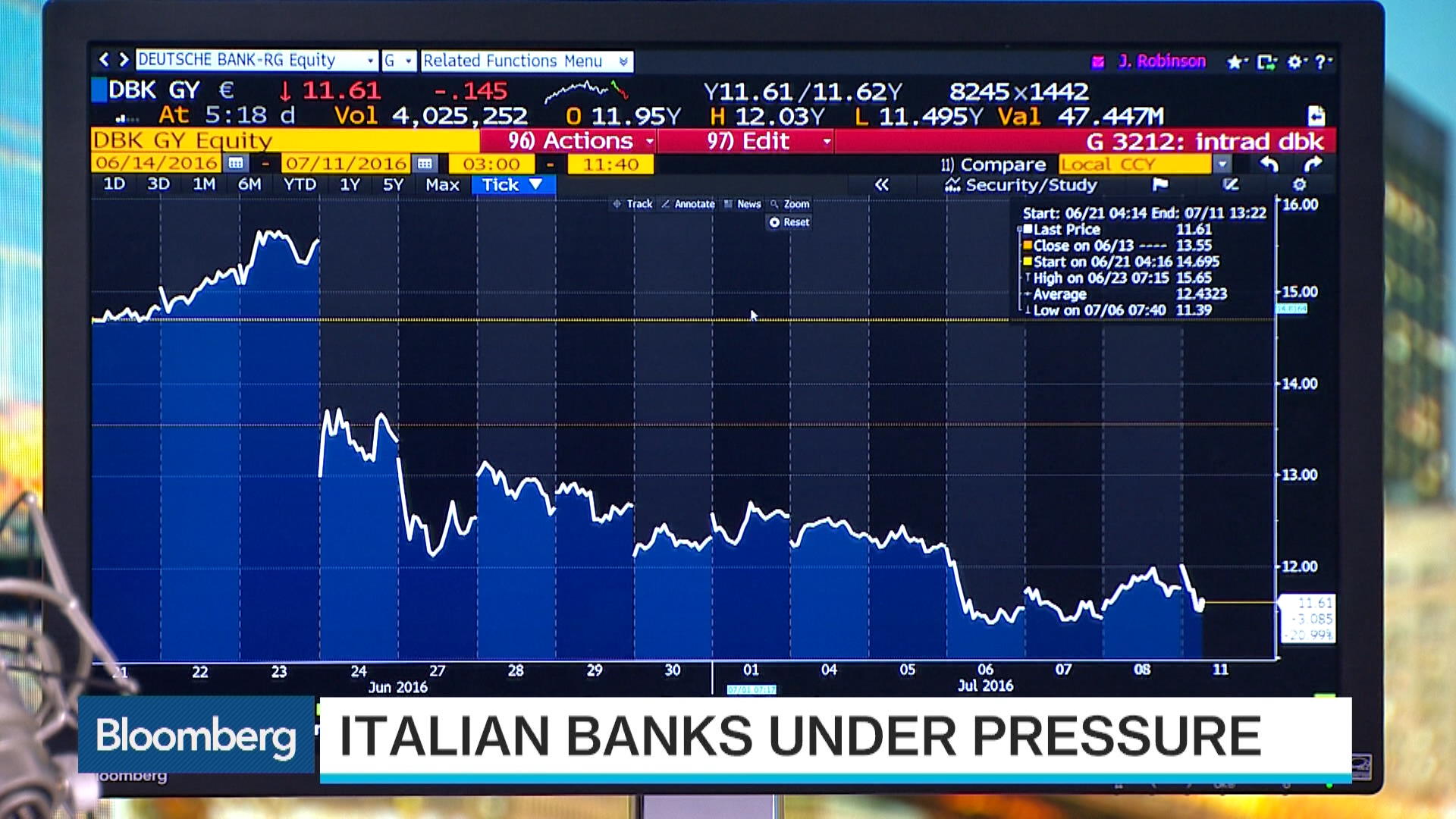 The Brexit vote could prove a big headache for the elites of continental Europe – and not in the way one might think.
Along with the British pound, one of the primarily casualties in financial markets following the U.K. referendum has been the lenders of Europe.
The Euro Stoxx banks index is down roughly 18 percent since the referendum, with particular pain for Italian banks and Deutsche Bank AG.
And in light of a relationship highlighted by Scotiabank Economist Derek Holt, the negative effects of this tumble in the banks could play out on the real economy over the next year. Holt observed that bank stocks tend to lead credit creation in Europe by about 12 months:

The uncertainty that's gripped Europe in the wake of Brexit implies that the demand side of the equation might be the proximate cause of any downturn in loan growth. The European Central Bank, meanwhile, has taken numerous steps to avoid a liquidity crunch that restrains lending. But the plunge in bank stocks only dims the picture for credit creation on the continent by hampering the supply side, argues Holt.
"While liquidity and funding pressures at European banks can be addressed through various policy tools, what is not being addressed is that their ability to raise capital to drive loan growth is being further impaired," the economist said. "The likely recourse is to deleverage and de-risk the loan books, against the hopes and efforts of the ECB."
In a recent note to clients, a Deutsche Bank team led by Senior Economist Marco Stringa detailed how the outlook for European banks' bottom lines had been turned on its head amid the market turmoil, with current consensus estimates for earnings to decline by 14 percent this year, compared to forecasts for a 6 percent rise for the group at the start of 2016.
"The collapse in equity prices reduces banks' ability to raise capital externally," they wrote. "At the same time the extremely low and flat yield curves hinder banks' ability to grow capital internally."
Brexit, the team added, means that this difficult operating environment is likely to endure.
Such a backdrop has set up a lose-lose situation for European politicians, said Scotia's Holt.
"Liquidity and funding tools are an inadequate response to the problems facing European banks," he cautioned. "At some point – soon – they will need to have a born-again moment in Europe and decide between recapitalizing banks (and enduring political heat), or accepting long-lived downsides to loan growth and with that growth in the broader economy (and enduring political heat)." 
Upcoming elections in Germany, France, the Netherlands, Norway, and Austria may cause lawmakers to be wary of spending political capital on bailing out their financial institutions, Holt added.
In other words, the kind of help that's needed might not be on the way.