Brexit
Brexit Bulletin: What You Need to Know Today
Osborne heads to Wall Street as Labour heads into a leadership battle.
By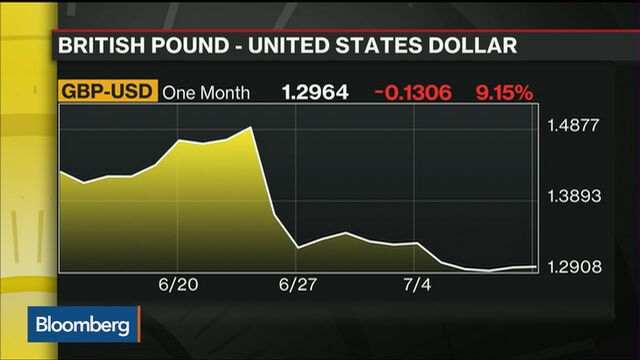 Sign up to receive the Brexit Bulletin in your inbox.
Chancellor George Osborne is embarking on a tour of global financial capitals in a bid to shore up confidence in the U.K. economy.
Osborne lands on Wall Street today to meet American investors before returning to London for talks with U.S. Treasury Secretary Jack Lew. He then nips back across the Atlantic to Brussels before heading on to China and Singapore.
He has a clear point he wants to get across:
"My message to the world is that Britain may be leaving the EU, but we are not quitting the world."
A bout of shuttle-diplomacy could burnish Osborne's credentials if his six years at the Treasury come to an end. It also may deflect criticism that Bank of England Governor Mark Carney has been alone at the helm of the U.K. economy since the June 23 Brexit vote.
What He's Leaving Behind
Back home, the U.K. remains in political disarray. Seeking to become prime minister, Andrea Leadsom was forced to apologize to rival Theresa May for implying her motherhood made her a better candidate. Meanwhile, former business spokeswoman Angela Eagle is set to challenge Jeremy Corbyn for the leadership of the opposition Labour Party.
Carney to the Rescue
Having calmed the banks after the Brexit vote, the Bank of England governor switches focus to what more monetary policy can do for the economy. Twenty-nine of 53 economists surveyed by Bloomberg predict Carney's Monetary Policy Committee will cut the benchmark interest rate this week, with a majority forecasting it to be halved to 0.25 percent. Some said the cut will come in August when more data is available.
Brexit Hitting Home
The reality of Brexit is already dawning on one corner of the investment industry. Funds investing in commercial property, among the most popular last year, were frozen last week amid concerns that international companies might shut or scale back London operations even if financial markets and betting odds suggested that Brexit was unlikely. Sarah Jones details how the week unfolded.
"As soon as Standard Life suspended their funds it caused contagion. The key point here is no one really knows where U.K. property prices are going." Jason Hollands, managing director at investment firm Tilney Bestinvest
Lawyers Lining Up
Here come the lawyers. More than 1,000 of them will say today that the government must consult parliament before any decision is made to leave the EU. The referendum wasn't legally binding and lawmakers should be allowed a free vote before divorce negotiations are formally triggered, the lawyers say in a letter to Cameron.
What Are the Markets Doing?
Maybe Brexit doesn't matter: Asian stocks rose after Friday's strong U.S. jobs report eased concerns about the world's largest economy.

Update at 9.20a.m. London time: European markets opened higher as well.


And finally...
Cameron can't even escape his critics while enjoying the tennis at Wimbledon. When British winner Andy Murray used his acceptance speech to note Cameron was in the crowd there were boos as well as cheers.
"Playing in a Wimbledon final is tough, but I certainly wouldn't like to be the prime minister, it's an impossible job."
For more on Brexit follow Bloomberg on Twitter, Facebook and Instagram, and see our full coverage at Bloomberg.com
Before it's here, it's on the Bloomberg Terminal.
LEARN MORE