Bank of Japan Will Need to Slow Bond Purchases, Ex-Director Says
by and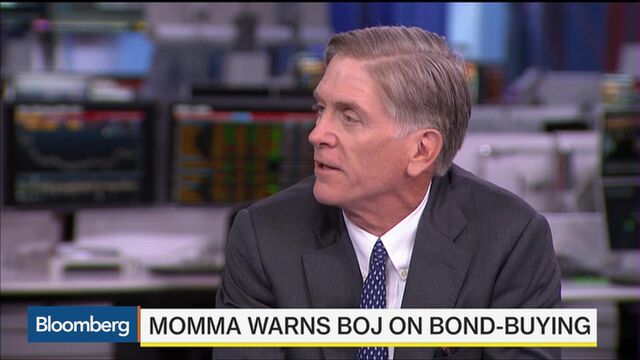 The Bank of Japan will need to reduce the pace of its record purchases of government debt as it is approaching the limits of the bond market, said a former BOJ executive director.
"Of course they can't keep stacking up 80 trillion yen ($784 billion) of bonds forever," said Kazuo Momma, who worked at the BOJ until the end of May. "They are aware they are nearing the limit, whether that is now or later."

"With that awareness, it's not impossible that they will increase the pace from 80 trillion yen to 100 trillion yen or 120 trillion yen, but it's incredibly difficult," he said in an interview on Monday in Tokyo. "Based on common sense, you'd think they'd start considering reducing the pace a little bit in the near future."
Governor Haruhiko Kuroda has given no indication that the bank is considering cutting purchases -- indeed, he has repeatedly said that the BOJ won't hesitate to expand stimulus if needed to achieve the target of 2 percent inflation. Markets expect that to happen soon, with more than half of economists surveyed before the June meeting forecasting more BOJ action in July.
The bank's board next meets on July 28-29, with the U.K.'s decision to leave the EU adding to global risks and increasing the demand for the yen as a haven. Consumer prices are also falling again, showing that the effects of the BOJ's previous stimulus is waning. The bank buys government bonds so that it's holdings increase at about 80 trillion yen a year. It also buys exchange-traded funds, real-estate investment trusts and other financial instruments.
Inflation Target
The central bank's record easing has pushed down interest rates significantly, but Kuroda's BOJ is running out of room to surprise the market with another monetary blast, Momma said, adding that it'll be very hard to achieve the inflation target in the next 12 or 18 months.
Momma, who worked at the central bank for about 35 years, said he doesn't see the need for the BOJ to insist on the 2 percent target, because it's not that zero inflation is "hell" and 2 percent inflation is "heaven."
"The difference isn't that wide, and it's more like 2 percent is better," Momma, now an economist at Mizuho Research Institute, said. "I don't see that they need to force various risky measures to achieve that."
"The BOJ faces headwinds everywhere as oil prices have slumped since 2014, global economic uncertainty deepened and the yen switched back to a rising trend," he said. "It's extremely hard to counter those headwinds with monetary policy alone and take expectations to 2 percent in the short term."
Before it's here, it's on the Bloomberg Terminal.
LEARN MORE