Asian Stocks Climb Most in Four Months After U.S. Jobs Report
by
Japanese equities lead the way after Abe scores election win

India, Thailand share gauges poised to enter bull markets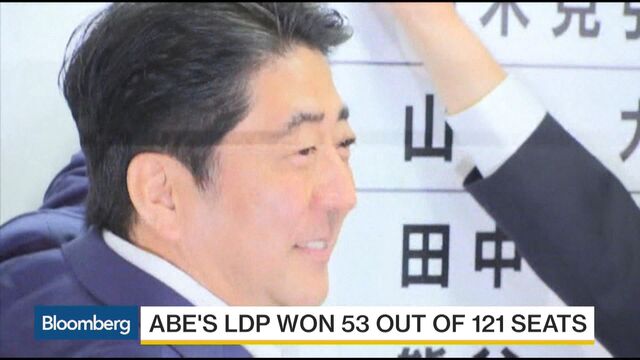 Asian stocks rose the most in four months after a strong U.S. jobs report spurred optimism the world's largest economy can support global growth. Japanese equities rallied the most since February, while India and Thailand were on the cusp of entering bull markets.
The MSCI Asia Pacific Index climbed 2.1 percent, the most since March 17, to 130.88 as of 4 p.m. in Hong Kong. Japan's Topix index jumped 3.8 percent as the yen weakened after the U.S. data. Prime Minister Shinzo Abe's coalition scored a convincing win in Sunday's upper-house election, paving the way for more fiscal stimulus. Hong Kong's Hang Seng Index closed up 1.5 percent.
The Asia Pacific equity gauge recovered after falling 1.1 percent last week amid renewed concern the fallout from the British referendum to leave the European Union will slow international growth. While the chance the Federal Reserve will increase borrowing costs this year rose to 21 percent after the jobs data, according to futures contracts, the impact of Brexit has kept the odds low, supporting emerging-market assets.
"The U.S. economy is fine but the outlook for the rest of the world is holding them back from raising rates," said Mark Matthews, Singapore-based head of Asia research at Bank of Julius Baer. "Abe can do much meaningful fiscal stimulus. The next step is to step up fiscal stimulus in Japan, which could be as simple as writing a check to every household."

Japan's Topix climbed the most since Feb. 15 as the yen fell 1.4 percent to 101.97 a dollar. The Nikkei newspaper reported that Abe would on Tuesday order the compilation of a stimulus package, which one of his advisers has said should be 20 trillion yen ($196 billion) in the current fiscal year.
Australia's S&P/ASX 200 Index jumped 2 percent. Prime Minister Malcolm Turnbull declared victory in Australia's election, though it remains unclear if his Liberal-National coalition has enough seats to form a majority government more than a week after voting day.
Chinese stocks traded in Hong Kong rose the most in almost seven weeks, with the Hang Seng China Enterprises Index climbing 2 percent. The Shanghai Composite Index declined 0.6 percent.
China Prices
China's factory-gate deflation eased for a sixth month, giving policy makers fresh evidence declines in prices are starting to slow. The producer-price index fell 2.6 percent in June, compared with a 2.8 percent drop a month earlier, the National Bureau of Statistics said Sunday. The decline was the smallest since late 2014. The consumer-price index rose 1.9 percent from a year earlier, compared with a 2 percent gain in May.
New Zealand's S&P/NZX 50 Index rose 0.9 percent, Taiwan's Taiex index increased 1.7 percent and Singapore's Straits Times Index climbed 1 percent. The Jakarta Composite Index advanced 1.8 percent as Indonesia's financial markets resumed trading following a one-week holiday. South Korea's Kospi Index gained 1.3 percent.
The S&P Sensex index rose 1.7 percent. If it maintains that advance at the close, the measure will have risen more than 20 percent from a low reached in February, fitting the definition of a bull market. The Stock Exchange of Thailand Index climbed 0.8 percent, 19.8 percent higher than a low in January.
Metals Rally
BHP Billiton Ltd., the world's biggest mining company, climbed 2.9 percent as metals from copper to nickel rallied. Nintendo Co. surged 25 percent in Tokyo, the most on record, after its new mobile-game app, Pokemon Go, climbed to the top of the free-to-use charts for Apple Inc. in the U.S. and Australia. Japan's Panasonic Corp. rose 7.9 percent and South Korea's LG Chem Ltd. gained 3 percent as people familiar with the matter told Bloomberg Volkswagen AG is considering teaming up with either of the electric-car battery producers.
Futures on the S&P 500 rose 0.3 percent after the U.S. equity benchmark index climbed 1.5 percent on Friday when it briefly topped a record close and erased losses incurred after the U.K.'s Brexit vote.
Nickel gained 2.1 percent amid concern supply from the Philippines and China will decline. Copper climbed1.2 percent. Brent crude fell 1.7 percent, after U.S. producers increased the number of active rigs to the highest since April.
Before it's here, it's on the Bloomberg Terminal.
LEARN MORE