Aberdeen Delays Fund Reopening on 'Exceptional Circumstances'
by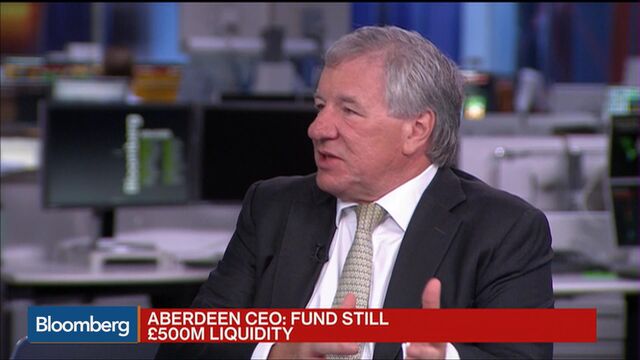 Aberdeen Asset Management Plc delayed the reopening of its 3.2 billion-pound ($4.2 billion) U.K. property fund for a further two days after two unidentified investment firms requested the extension.
"Given the exceptional circumstances and specific requests we have received from two large platforms, we believe it is appropriate to allow a further two days for remaining investors to be contacted in the interests of treating all customers fairly," Chief Executive Officer Martin Gilbert said in a statement on Monday.

U.K. property funds with about 18 billion pounds of assets froze redemptions last week as investors sought to leave illiquid real estate holdings in the aftermath of Britain's shock decision to leave the European Union. Investors are pulling money as analysts warn that London office values could fall by as much as 20 percent within three years of the country leaving the EU.
A lot of people who were looking to get their money back are withdrawing those requests, Gilbert said in an earlier interview with Manus Cranny and Anna Edwards on Bloomberg Television. "We still have about 500 million pounds of liquidity," he said. The intention was to reopen the fund on Monday, he said at the time.
Gilbert said outflows accelerated from almost zero before Standard Life Investments halted trading of its 2.9 billion-pound U.K. real estate fund on Monday and peaked at about 150 million pounds on Wednesday. Aberdeen initially suspended trading of the fund until Monday after cutting its value by another 17 percent to give investors the weekend to reconsider their sell orders. It had earlier cut the value by 3.75 percent.
"We took the view that one of our obligations was to provide liquidity to our holders and we got a valuation done" on a stressed scenario, the CEO said in the interview. "We are taking a cautious view, we still have to see how much liquidity we have."
Before it's here, it's on the Bloomberg Terminal.
LEARN MORE