Japanification of Treasuries Seen Cutting 10-Year Yield Below 1%
by
Mitsubishi UFJ Kokusai says U.S. yield may reach 1% in July

Bonds in record rally even as U.S. reports June jobs surge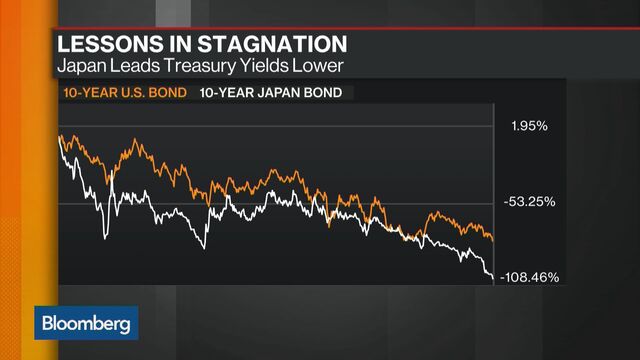 Japan's biggest bond bulls, seasoned by two decades of economic stagnation, say the plunge in yields below zero in Tokyo foreshadows record-breaking gains for U.S. Treasuries.
Mitsubishi UFJ Kokusai Asset Management says U.S. 10-year yields will drop to 1 percent as soon as this month. Sumitomo Mitsui Trust Asset Management says it's likely in 2017, and Mizuho Asset Management predicts the figure may go even lower. The yield, a benchmark for everything from U.S. mortgages to dollar bonds in developing nations, plunged to a never-before-seen 1.318 percent last week. A surging jobs report wasn't enough to derail the rally.
"Welcome to the world of Japanification," said Hideo Shimomura, the 49-year-old chief fund investor at Mitsubishi UFJ Kokusai in Tokyo, which oversees about $119 billion. "One percent is inevitable."

Shimomura has 20 years of experience in bonds and has been bullish on Treasuries since 2010, watching the 10-year yield tumble 2 1/2 percentage points as Japan's slumped all to way to zero. He's seen the same trends in Japan play out in the U.S., with an aging population and competition from low-cost manufacturers cooling inflation. Higher welfare costs limit room for fiscal stimulus, encouraging monetary authorities to pump money into the economy, where banks park the cash in bonds instead of using it to make loans.
Demographic Challenge
Japan has 26 percent of its population over the age of 65, compared with 15 percent in the U.S., based on World Bank estimates. U.S. baby boomers, born when birth rates spiked for almost two decades after World War II, began turning 65 in 2011, according to the U.S. census bureau. Those 65 and over will almost double in 2050 from 2012's level, it estimates.
Japan's experience shows there's no limit to how low yields can go, said Yusuke Ito, the senior investor in Tokyo at Mizuho Asset, which oversees about $50 billion. The nation's 10-year yield has plunged as low as minus 0.3 percent, and the 20-year reached minus 0.005 percent. While the U.S. is more welcoming to immigrants than Japan, that won't be enough to offset downward pressure on the economy, said Ito. Last August, he warned that the Federal Reserve was "going to be premature" in raising interest rates, drawing on his experience of false dawns in Japan.
Boom Busted
"Japan is aging the fastest," Ito said. "The economic boom is busted" in the Asian nation, he said. "There is no sign of recovery. That's something that will happen to the other economies."
Bond bulls have been rewarded around the world. Bank of America Corp. indexes show Japanese debt returned 7.1 percent in the first six months of the year, while Treasuries rallied 5.7 percent, their best first half in six years.
Treasury 30-year yields tumbled to an unprecedented 2.0882 percent Monday even after the Labor Department reported at the end of last week the U.S. added 287,000 jobs in June, versus 180,000 projected by a Bloomberg survey of economists. Job growth over the last three months averaged 147,000, down from about 196,000 in the first quarter.
U.S. 10-year yields rose six basis points to 1.42 percent as of 1:28 p.m. in New York, based on Bloomberg Bond Trader data.
Minority View
Japanification has been a minority view. Bloomberg's monthly surveys of U.S. economists have consistently -- and incorrectly -- projected yields would rise. Janus Capital Group Inc.'s Bill Gross told Bloomberg Television last week that sovereign bond yields at record lows are "too risky." The latest survey projects the 10-year yield will climb to 1.75 percent by year-end, with the most recent forecasts given the heaviest weightings.
For a Gadfly column on the outlook for Treasury yields, click here.
Hideaki Kuriki, a debt investor at Sumitomo Mitsui Trust, which oversees $81 billion in Tokyo, sees it from a different perspective. Positive U.S. yields compare favorably to negative 10-year yields in both Japan and Germany just as Britain's exit from the European Union threatens to slow global growth, he said. The world's biggest sovereign debt market also has greater liquidity, Kuriki said.
"The world economy will decline," he said. "U.S. Treasury yields will go down. The Fed can't hike."
The U.S. economy expanded 1.1 percent in the first quarter, the slowest pace in a year, and futures contracts show the odds of a central bank increase this year are about 29 percent. Japanese investors bought bonds abroad for a 12th straight month in June, according to the Ministry of Finance, with Treasuries their favored market.
The U.S. inflation rate is 0.9 percent based on a gauge the Fed monitors, and it has been below the 2 percent target for more than four years. The five-year, five-year break-even rate, the bond market's expectation for the pace consumer prices will increase from 2021 to 2026, tumbled to 1.3 percent, the lowest level in data compiled by Bloomberg that go back to 1999. The Bank of Japan's favored measure of living costs fell 0.4 percent in May from a year earlier.

Diam Co., which manages $168 billion, isn't ready to sell its long-term Treasuries.
"There's almost no reason to reduce exposure," said Hajime Nagata, a bond investor for the company in Tokyo. "Our expectation for the U.S. economy is probably worse than the market's."
Before it's here, it's on the Bloomberg Terminal.
LEARN MORE