Qatar's Triple Bond-Fee Payment Sets New Era for Gulf Borrowers
by
Oil slump leaves Gulf nations more reliant on foreign advice

Doha offers precedent for Saudi Arabia, Kuwait planning bonds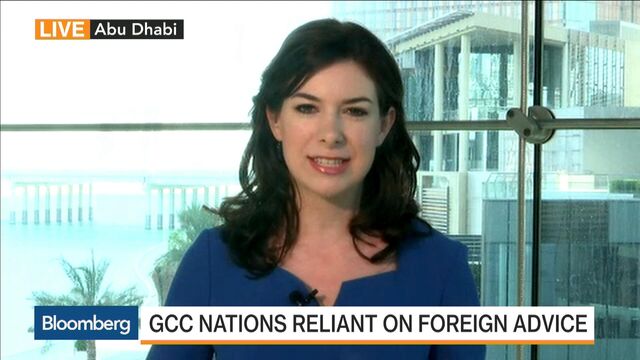 When Qatar raised $9 billion at an international bond sale in May, it more than tripled the underwriting fees paid to banks.
While the move underscored how the government wanted to ensure it could drum up cash from as many corners of the world as possible, it may have also set a precedent for other potential borrowers among the six nations that comprise the Gulf Cooperation Council. Saudi Arabia, for one, is about to turn to international bond markets for the first time after the collapse in crude-oil prices swelled its budget deficit.
Qatar, host to the 2022 soccer World Cup, boosted the size of its banking syndicate by two-thirds to sell the region's largest-ever bond in May, as it sought cash to spend on infrastructure. When the government in Doha won the bid to host the tournament five and a half years ago, oil was heading toward a peak.
"We are in a different era," said Mohammed Elmi, an emerging-market money manager at Federated Investors U.K. in London who purchased Qatar's bonds. "There is much more of a need to go out and do a jumbo deal, and this comes at a cost."
Qatar, the world's largest exporter of liquefied natural gas, paid underwriting fees of 21 basis points, or $19 million, to the 10 banks it hired for its deal, compared with six basis points divided between six underwriters in 2011, according to research by New-York based Freeman Consulting Services using regulatory filings. Adding two extra Japanese banks -- SMBC Nikko Securities Inc. and Mizuho Financial Group Inc. -- to a syndicate that already included Mitsubishi UFJ Financial Group enabled the government to place almost 30 percent of one portion of the debt in Asia, compared with 5 percent in 2011.
A Qatari finance ministry spokesman declined to comment.

Gulf nations, which during the oil boom had little need for outside help, are now revamping how they finance themselves to cope with the reality of $50-a-barrel crude, less than half the average price of about $110 over 2011. Their budget shortfalls will swell to $900 billion by 2021, according to International Monetary Fund estimates. The price of Brent was 0.3 percent higher at $46.92 per barrel at 2:09 p.m. in London.
Saudi Arabia lured HSBC Holdings Plc banker Fahad Al Saif to start a debt-management office for the sale of at least $10 billion of bonds sometime this year. The kingdom is said to have hired three foreign banks as global coordinators: HSBC, Citigroup Inc. and JPMorgan Chase & Co.
Even though bond deals are costing Gulf governments more, it doesn't mean the bankers at the other end are walking away with bigger checks. That's because the fees are being spread out among a larger number of managers. The median rate paid by emerging-market governments fell to 11 basis points in 2016 from 13 in the previous three years, according to Freeman. High-grade companies in the U.S., by contrast, typically pay five times more.
The world's biggest banks are willing to share the spoils with a wider group of competitors because they're holding out for potentially more lucrative mandates advising on planned privatizations and initial public offerings. Saudi Arabia is planning to sell stakes in hundreds of state assets, most notably an initial public offering of oil monopoly Aramco that could be valued at upward of $2 trillion.
For an exclusive look at Saudi Arabia's biggest-ever shake-up, click here.
"The fee levels on these sovereign bonds seem to be driven more by how badly banks want to develop government relationships, than by normal factors like costs and risk," said Jeff Nassof, a director at Freeman. "From what we've heard, the opportunity to develop government relationships is the big draw for banks."
Saudi Arabia and Kuwait, which plans to sell as much as $9.9 billion of bonds in this fiscal year, will probably follow the Qatari example of widening its pool of advisers, according to Elmi and Sergey Dergachev, a senior money manager at Union Investment Privatfonds GmbH in Frankfurt.
"The more banks you have, the more opportunities you have to place yourselves in front of different clientele," Elmi said.
Before it's here, it's on the Bloomberg Terminal.
LEARN MORE