Old Mideast Foes Unite Over Gas Deals and Fighting Militants
by , , and
Israel said to back Palestinian peace initiative by Egypt

Netanyahu assures accord with Turkey won't stop gas to Egypt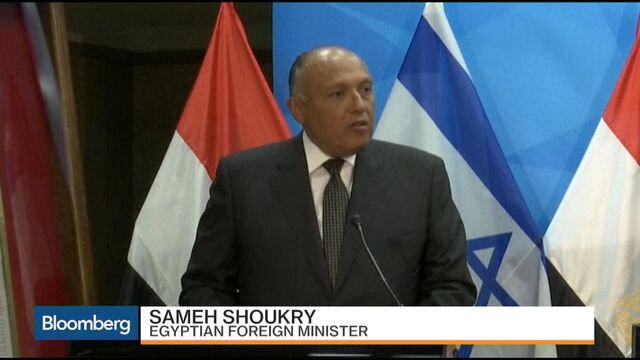 When Egyptian President Abdel-Fattah El-Sisi turned a standard speech on electricity supplies into an unexpected appeal for peace between Israel and the Palestinians, one man who wasn't surprised was Israeli Prime Minister Benjamin Netanyahu.
The televised address in May capped months of backstage diplomacy by a group including former British premier Tony Blair. With Netanyahu wary of a separate French-led proposal that could impose a solution to the Palestinian conflict, almost every step was coordinated with his veteran negotiator, Yitzhak Molcho, according to people familiar with the secret talks. 
Nearly four decades after their peace accord changed the face of the Middle East, Israel and Egypt are slowly turning a cool relationship into an alliance. They have tightened security cooperation to unprecedented levels and have been laying the legal groundwork for a multi-billion dollar energy contract, as gas discoveries in the Mediterranean and the persistent threat from Islamist militants shift the political dynamics across the region.
"In this time of turmoil and instability all around the Middle East, it's very important for reasonable countries to keep some kind of cooperation," Israeli Energy Minister Yuval Steinitz said in an interview in his office in Jerusalem.
In the latest sign of the warming relations, Egypt's Foreign Minister Sameh Shoukry visited Israel on Sunday to discuss efforts to renew stalled Israeli-Palestinian peacemaking, the first public visit by an Egyptian foreign minister in nine years. Blair met Netanyahu on Monday to follow up on the Shoukry visit and help lay the groundwork for a summit with El-Sisi, according to an Israeli official who spoke on condition of anonymity because of the diplomatic sensitivity.
"My visit to Israel today is a continuation of Egypt's longstanding sense of responsibility towards peace for itself and all the peoples of the region, particularly the Palestinian-Israeli peoples," Shoukry said, standing beside Netanyahu at a press conference. Netanyahu said it "illustrates the change that has taken place in Israeli-Egyptian ties, including President El-Sisi's important call to advance peacemaking, with the Palestinians as well as Arab states."
Arrangements are being made for Netanyahu to travel to Egypt by the end of the year for a meeting with El-Sisi, Channel 2 television said, without saying where it got the information. The aim would be to promote the Saudi-initiated regional approach to brokering an Arab-Israeli peace and preempt the French proposal for resolving the Israeli-Palestinian conflict, which the Israeli leader opposes, Channel 2 said.
New Era?
In his speech at a new power plant in Assiut, 400 kilometers (250 miles) south of Cairo, El-Sisi said he saw "a great chance for a better future," between Israel and the Palestinians. An ensuing statement by Netanyahu championing Egypt's involvement was coordinated, the people familiar with the talks said, speaking on condition of anonymity. French Foreign Minister Jean-Marc Ayrault said it was "complementary" to his country's effort.

Returning as a key power broker in the region would help burnish Egypt's international image as it struggles to revive its economy. Potential rewards would mitigate any increased risk of attack by militants because of closer ties to Israel. The affinity between El-Sisi, 61, and Netanyahu, 66, is also remarkable given that antipathy toward Israel still runs deep in Egypt.
The government in Cairo and civil society groups typically have sought to keep dealings with Israelis to a minimum, and official contact is frequently kept secret. Tawfik Okasha, a lawmaker, was attacked with a shoe in February by a colleague then expelled from parliament for meeting with Israel's ambassador to Cairo. 
Dozens of militant attacks by an Islamic State affiliate on Egyptian security personnel have allowed El-Sisi to pull closer to the Jewish state. Israel, also targeted by militants operating in Egypt's Sinai peninsula and the Hamas-ruled Gaza Strip, has let him boost military operations along their shared border beyond what the 1979 treaty permits.
"There is definitely a high level of cooperation that could be unprecedented, especially in the field of combating terrorism," said Mohamed Kamal, a former lawmaker and a political science professor at Cairo University. "Egypt will handle this issue in a rational way, based on national interest."
Sharing Intelligence
El-Sisi has acted with a fervor his predecessors lacked against armed groups and weapons moving between Sinai and Gaza, destroying and flooding hundreds of cross-border tunnels. Israel has responded to El-Sisi with financial gestures and, according to the Israeli military's deputy chief of staff, increased intelligence-sharing.
"The level of cooperation is something we've never experienced before," Major-General Yair Golan said. "It's not about love, it's not about common values. I wouldn't describe it as the relationship we have with the United States of America, but I think it's a good starting point."
A former senior Israel official said his country has conducted numerous drone attacks on militants in Sinai in recent years with Egypt's blessing. He spoke on condition of anonymity to discuss confidential military activity.
Energy Deals
Israel's closeness to El-Sisi precedes his presidency. When he was defense minister, Israel lobbied the U.S. to release military aid to Cairo suspended over Egypt's deadly crackdown on Islamists. They argued it was needed to address security threats in Sinai, the former senior Israeli official said.
Potential gas deals would take cooperation to another level. Israeli supplies would ease Egypt's energy crunch until it can develop its own field, the largest in the Mediterranean.
To read more on energy negotiations between Israel and Egypt, click here
After Israel and Turkey ended a six-year rift last month and said they would start talks on energy supplies, Netanyahu publicly sent a message of reassurance to El-Sisi. Israel's Leviathan field "can supply Egypt, and that is something we are working to advance, as well as Turkey," he said at a news conference in Rome last month.

Idle Egyptian liquefaction plants could be reactivated to convert the Israeli gas for export to Europe and other international markets. Israel may forgive as much as half of a $1.7 billion fine international arbiters ordered Egypt to pay it for an earlier, broken gas contract, two people familiar with the matter said in May.
Listen Up
For Egypt, there's more at stake than energy supplies: assuming a leading role in peace talks is an opportunity after criticism that longtime Egyptian leader Hosni Mubarak had allowed Egypt's influence to wane, and El-Sisi had expected his words to resonate.
"I'll talk on a subject that could be totally unexpected and it is not a simple one," he said. "I hope everybody listening to me in Egypt, the Arab region, the Palestinians and the Israelis, will pay attention."
Before it's here, it's on the Bloomberg Terminal.
LEARN MORE