Merkel Sees Brexit as Unavoidable Once Next U.K. Leader in Place
by
U.K.'s 'decision has been taken,' German chancellor says

Dodges fourth-term question in German television interview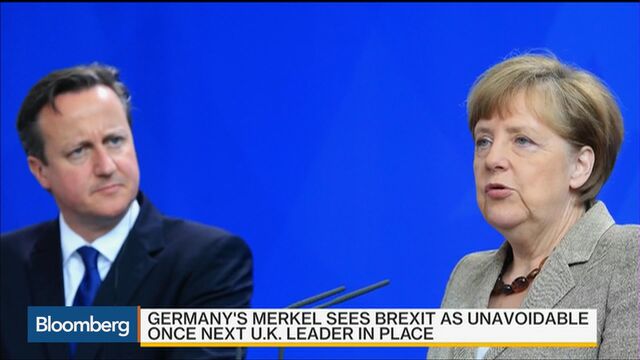 German Chancellor Angela Merkel said she expects the next U.K. prime minister to honor the Brexit referendum's result and start talks with the European Union on leaving the bloc.
"'In my view, the decision has been taken," Merkel said in an interview with Germany's ZDF television on Sunday. "The next step, in all probability, is that Britain will make an application under Article 50 of the EU treaties once it has a new prime minister."
"I deal with realities and firmly expect that this application will be filed," she said, referring to the clause by which EU members can leave the union. She emphasized the stance of the other 27 EU countries, including Germany, that the U.K. has to file its divorce papers before the EU will negotiate a new relationship.
Merkel's comments reflect her stance that while her government would have wanted the U.K. to remain, British domestic politics and the search for a prime minister to replace David Cameron can't be allowed to consume an EU that faces a range of crises. She suggested the EU doesn't need to revamp its agenda, including the quest for stronger economic growth and fiscal restraint.
"It's the Britons who held the referendum, not us," she told ZDF. "So I don't know why we immediately have to have a plan."
With Merkel's approval rating at a 10-month high, the chancellor batted away the question of whether she'll seek a fourth term in Germany's general election next year.
"I've already said I'll address that topic at the appropriate time" and "when it's necessary," she said.
Before it's here, it's on the Bloomberg Terminal.
LEARN MORE