Egypt's Shoukry Offers Netanyahu Help in Reviving Peace Talks
by
Trip to Israel first by an Egypt foreign minister in 9 years

Israel's PM welcomes 'Egyptian leadership' to advance peace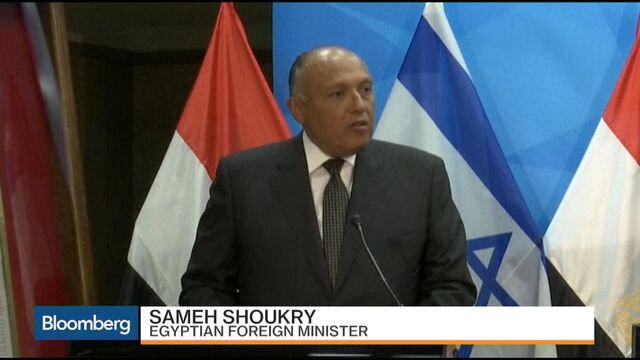 Egyptian Foreign Minister Sameh Shoukry traveled to Jerusalem and offered help to Israeli and Palestinian leaders in reviving peace negotiations that have been frozen for more than two years.
"My visit to Israel today is a continuation of Egypt's longstanding sense of responsibility towards peace for itself and all the peoples of the region, particularly the Palestinian-Israeli peoples who have suffered for many decades due to the perpetuation of the conflict between them," Shoukry said, standing beside Israeli Prime Minister Benjamin Netanyahu at a news conference on Sunday.
The trip follows up on Egyptian President Abdel-Fattah El-Sisi's May 17 speech in which he called upon Israeli and Palestinian leaders to return to peace negotiations. Netanyahu returned home Friday from a tour of east Africa, where he praised El-Sisi and expressed hope that Egypt would help Israel widen its circle of alliances. Shoukry, the first Egyptian foreign minister in nine years to visit Israel, held a similar meeting in June with Palestinian President Mahmoud Abbas in the West Bank city of Ramallah.
"I welcome President El-Sisi's recent offer of Egyptian leadership in efforts to advance peace with the Palestinians and a broader peace in our region," Netanyahu said.
Before it's here, it's on the Bloomberg Terminal.
LEARN MORE