Beijing's South China Sea Options, From Benign to Belligerent
by
Court to rule Tuesday on Philippine challenge to China's claim

China has said doesn't recognize jurisdiction of Hague court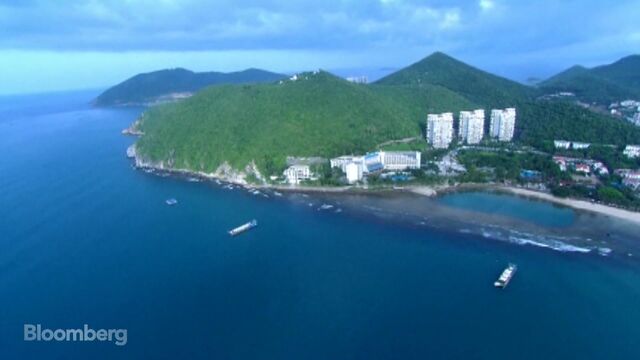 An international tribunal will rule Tuesday on a Philippine challenge to China's assertion to more than 80 percent of the South China Sea, one of the world's busiest waterways.
The Philippines contests China's "historic rights" claim based on a 1940s map that shows a dashed line covering around 1.4 million square miles (3.6 million square kilometers). China has said it doesn't recognize the jurisdiction of the tribunal in The Hague and will ignore its findings, which will binding on both countries as signatories to the United Nations Convention on the Law of the Sea but lacks a mechanism for enforcement.
Whatever the outcome, China will probably respond to the ruling (for an explainer on the territorial disputes, click here). And unless the report is 100 percent favorable for Beijing, its options could range from benign to aggressive:
Benign
Faced with a nationalistic population demanding China protect its sovereignty, the foreign ministry issues a strongly worded statement outlining its refusal to accept the court's jurisdiction and vowing to ignore the ruling.
Beijing extends its media campaign, proclaiming the support of more than 60 countries for its position (a list it has so far not published in full).
On the ground, however, China works to reduce tensions by pulling back on the harassment of Filipino fishermen. It refrains from adding military installations to reclaimed reefs in the Spratlys chain and leaves the Scarborough Shoal uninhabited.
Military ceases its radio warnings to military aircraft from other countries flying over features it claims. Diplomatically, it extends an invitation of direct talks to new Philippine President Rodrigo Duterte.


What it means: A lowering of tensions allows claimant states to put the disputes to one side to begin negotiations and potentially jointly develop mineral and energy resources.
Moderately Assertive
China declares an Air Defense Identification Zone, ordering commercial and military aircraft to lodge flight plans with it. It announced an ADIZ over parts of the the East China Sea disputed with Japan in 2013, but in practice has had difficulty enforcing it, and the U.S. would probably ignore one over the South China Sea.
Steps up patrols by its coast guard and navy, recommences harassment of fishermen and its blockade of the BRP Sierra Madre, a former naval vessel run aground by the Philippines on the Second Thomas Shoal.
China leaves UNCLOS, unwilling to accept the constraints of international law when it clashes with its own interests.


What it means: None of these actions would necessarily trigger a major response from the U.S., which has set itself up as policeman of the waters. But it may step up its military patrols, perhaps in conjunction with vessels from other navies. French Defense Minister Jean-Yves Le Drian in June called for joint European patrols of Asian waters.
Assertive
China starts building on Scarborough Shoal, which it seized from the Philippines in 2012. Radar, aircraft or missiles based there could reach Manila and bases in the Philippines to be used by U.S. forces. It also turns existing artificial islands into mini-bases by finishing runways, expanding port facilities and installing offensive missile systems and troops.
Drags the Sierra Madre off its position on the Second Thomas Shoal, as suggested in a June editorial by the People's Daily.
Specifies the coordinates of its nine-dash line, declares it to be a territorial demarcation boundary and solidifies its claim for all the waters, resources and features that lie within it.


What it means: This would put the U.S. in a difficult situation. Defense Secretary Ash Carter said in June the U.S. -- as an ally of the Philippines -- would take action should China build on Scarborough Shoal, without elaborating. But the U.S. has not followed through on previous "lines in the sand" in other parts of the world, including Syria, and it probably has no interest in picking a real fight thousands of miles from its own coastline.
Washington could face a "disastrous choice," says Hugh White, a professor of strategic studies at the Australian National University in Canberra. "Either it backs down, thereby acknowledging China's growing regional ascendancy and the corresponding decline of U.S. leadership, or it launches into an armed clash which might well escalate into a major conflict."
---
Five Ways China Lost in Tribunal's Ruling on
South China Sea

---
Before it's here, it's on the Bloomberg Terminal.
LEARN MORE