Australian Opposition Concedes as Incumbent Awaits Final Count
by
Still not clear if ruling coalition will govern as majority

Counting of votes cast in election held on July 2 continues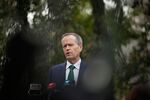 Australian Prime Minister Malcolm Turnbull's coalition will form the next government, opposition leader Bill Shorten said Sunday.
"I believe the government has won the election," Shorten, who heads the Labor Party, told reporters in remarks that were televised.
Still, the question remains whether Prime Minister Malcolm Turnbull's coalition will win enough seats to govern on its own as a majority. Australian Broadcasting Corp. has called 74 of the 150 seats in the House of Representatives for the Liberal-Nationals.
"We need to make this parliament function and we're up for that," Shorten said. "I don't envy Mr. Turnbull" because he needs to corral the various factions in his coalition.
With about 80 percent of the vote counted, the ABC has called 66 seats for Labor. Smaller parties and independents will win five, the broadcaster projects. Another five, including Flynn and Capricornia in Queensland, remain too close to call.
"We have won this election," Deputy Prime Minister Barnaby Joyce, the leader of the Nationals, said earlier today on Sky News. "I'm very certain we're going to win in Flynn" and also in Capricornia, he said. 
Before it's here, it's on the Bloomberg Terminal.
LEARN MORE