Hammond Says Leadsom Is Invisible in EU as Campaign Heats Up
by and
Leadership fight intensifies as Leadsom ignites motherhood row

Hammond says Leadsom's rival May is 'known commodity' in EU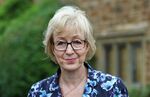 U.K. Foreign Secretary Philip Hammond said Andrea Leadsom lacks the international credentials to be prime minister as the Tory leadership candidate also drew fire at home for suggesting motherhood makes her better qualified than her rival, Theresa May.
"Most of my colleagues do not know Andrea Leadsom," Hammond said at a NATO summit in Warsaw. "Many of them do know Theresa May because she's appeared at joint meetings of interior ministers and foreign ministers that we've had in response to dealing with counter-terrorism issues in the European Union. She's a known commodity to them and her reputation goes before her."
The comments are the latest blow to Leadsom's campaign, which has fallen further behind odds-on favorite May after questions about whether her resume exaggerated financial industry experience. Home Secretary May is supported by the bulk of Conservative Party lawmakers in the all-female race.
Leadsom defended her campaign after attracting criticism for comments about motherhood, accusing The Times newspaper of "gutter journalism." In comments posted on Twitter, she said that the way the newspaper presented an interview was "the exact opposite of what I said."
The Times reported Leadsom as saying that being a mother made her a better choice than May because she has a "very real stake" in the future of Britain. It also responded by publishing a transcript and playing extracts of the recorded interview.
The Times and the Telegraph, two of the most influential right-leaning newspapers, both published opinion articles on Saturday saying Leadsom was not qualified to be prime minister. Bookmaker Ladbrokes said May was favorite to become the next Conservative leader and offered 10/1 that Leadsom would withdraw before the end of July.
QuickTake Q&A: How U.K. and Europe Might Relate After Breakup
QuickTake Q&A: Investors Flee U.K. Real Estate Funds Post-Brexit
The leadership election means there's vacuum of power in Europe's second-biggest economy until the new leader is announced on Sept. 9. The country is still reeling from the June 23 shock referendum result, which prompted Prime Minister David Cameron to resign, sent sterling to a 31-year low, and pounded consumer and business confidence. Cameron in Warsaw said he wasn't going to comment on Leadsom's remarks.
The government on Saturday rejected an online petition that had demanded a second referendum be held.
"This was a once in a generation vote and, as the prime minister has said, the decision must be respected," the government said in its written response. "We must now prepare for the process to exit the EU and the government is committed to ensuring the best possible outcome for the British people."
With few signs that the U.K. is set to reverse course, U.S. President Barack Obama and German Chancellor Angela Merkel on Saturday agreed on the need for an orderly Brexit process and "highly integrated" U.K.-EU ties.
May, who quietly backed the campaign to remain in the European Union, has the support of most of her fellow lawmakers, including Hammond. Leadsom is touting her "Leave" credentials to drum up votes among a predominantly Euroskeptic party base.
Hammond, a father who is openly backing May, said that being a parent doesn't make a person a better prime minister.
"What makes you qualified to be prime minister is having long experience, a clear understanding of the big issues facing this country and a proven track record of being robust in the face of many pressures," Hammond said.
Leadsom has pledged to immediately invoke Article 50 if elected, starting the two-year withdrawal process. Legal experts have said that would be illegal without the approval of Parliament and threatened lawsuits. The first was filed this week by lawyers representing Deir Dos Santos, a U.K. hairdresser.
May, 59, has sought to distance herself from Tory infighting over Brexit. On Saturday, she announced a clean campaign pledge, promising to ensure that the contest was "in good taste" and stays "within the acceptable limits of political debate."
Before it's here, it's on the Bloomberg Terminal.
LEARN MORE