Why Staples Has Olympics Fever
It's a major apparel supplier to the games' partners in the U.S.
By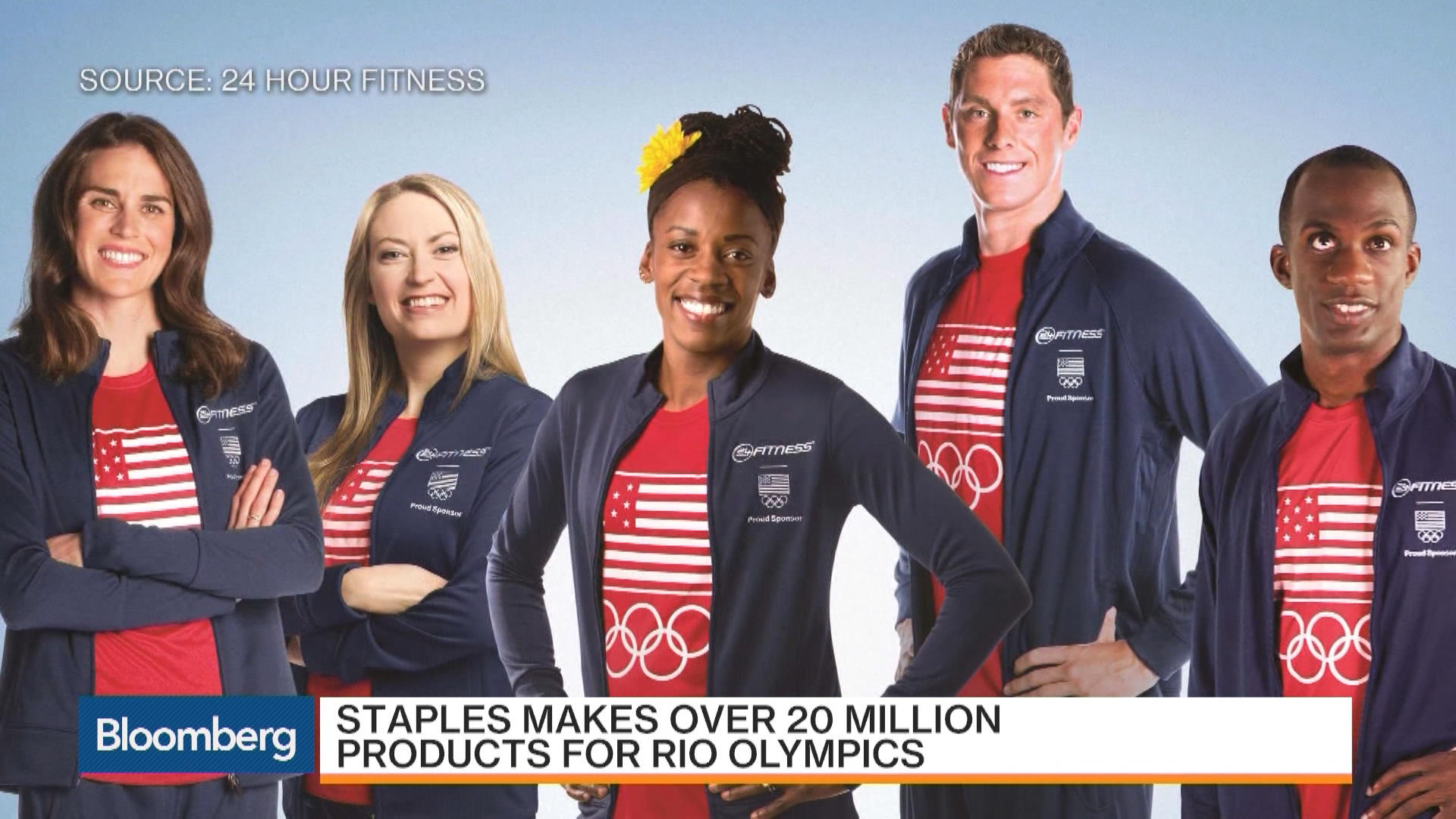 In May, soccer midfielder Carli Lloyd, swimmer Missy Franklin, and fencing champ Ibtihaj Muhammad—three of the U.S. Olympic team's biggest stars—gathered at a Los Angeles airplane hangar to take part in a media event for Visa, one of the team's biggest sponsors. For their 30-minute photo shoot, the three women chose from a rack of garments bearing Visa's logo on one side and the Olympic rings on the other. The stylish and colorful shirts, sweaters, and hoodies were all provided by the United States Olympic Committee's most unlikely apparel partner: office supply kingpin Staples.
"When I first met them, I had the same reaction. Staples? Really?" says Andrew Cohen, Visa's vice president for global brand and innovation. "And they've done a great job with us."

The company better known for selling desk chairs and Filofaxes is a major supplier of U.S. Olympic merchandise. Much of the clothing athletes will wear in commercials for the next two months is supplied by Staples. So are water bottles, hats, and tote bags created by official sponsors of the games. And the Olympic surfboards for sale to Visa employees? Also Staples.
The office supply retailer is one of two companies—branded merchandise maker Bensussen Deutsch & Associates is the other—that pay an undisclosed amount for the right to sell the USOC's 40 sponsors all the co-branded merchandise they need. That can bring big business from companies that plan multiple events before the games and may send large delegations of employees, clients, or customers to Rio de Janeiro this summer. Staples, which works with 80 percent of the USOC's partners, will make more than 20 million items tied to the Summer Games, according to Donna Armstrong, the company's director for sponsorship activation. "Our mission isn't to say that we're doing it, our mission is to support our partners," she says. "People don't realize Staples is the largest promotional products company in the world, by far."
Those promotional products, a $500 million annual business for Staples, are part of a larger business-to-business model that's been a growing focus for the company since 2008, when it acquired office-supplies wholesaler Corporate Express for $2.6 billion. Staples now works with about half of the Fortune 1000 companies, supplying everything from office products and furniture to printing services and apparel. Last year, Staples' $8.4 billion in business-to-business sales were about 40 percent of its $21 billion total.
Those relationships have helped boost Staples' Olympic ventures; when an existing client becomes an Olympic partner, Staples typically gets some of the business, too. The affiliation can also produce work beyond the games. When gym operator 24 Hour Fitness partnered with the USOC in 2004, it contracted with Staples to provide its Olympic merchandise. Staples now handles much of the chain's back-end services, including uniforms for its 22,000 club employees, its janitorial and office supplies, and toys for the gym's kids' areas.
The Olympics have a different kind of brand than the National Football League, says Peter Zeytoonjian, the USOC's managing director for consumer products. "Olympics sponsors will have their entire corporate staff and VIPs wearing co-branded gear," the former NFL exec says. "Whereas for NFL partners, it's almost always consumer-facing products."
Under USOC rules, Staples' products can't be worn by athletes on the ground in Rio—that high-visibility right is reserved for higher-paying retail partners Nike and Ralph Lauren. And Staples' co-branded items must show both the logo of a sponsor and the Olympic rings at the same size. They also can't be sold at retail, though selling the product in employee stores—also run by Staples—is allowed.
Staples' partners say its 28 years of experience working with the USOC means they don't need to worry about all the Olympic branding technicalities. "It's not a source of stress," says Victoria Hoe, director for Team USA Partnerships at 24 Hour Fitness. "They handle the guidelines, they handle the approval, and they know how it's supposed to run."
The bottom line: Staples, a big maker of apparel for Olympic sponsors, will produce more than 20 million items tied to this year's games.
Before it's here, it's on the Bloomberg Terminal.
LEARN MORE