Wall Street Weighs In On the June Employment Report
Lots of thoughts after the big turnaround.
By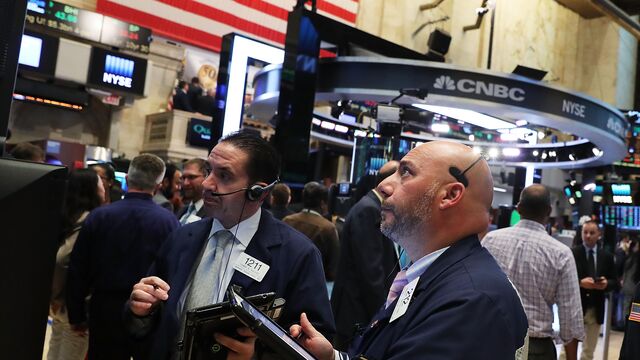 After an abysmal May jobs report, the stakes for June were extra high and the numbers didn't disappoint. 
The labor market came roaring back last month with nearly 300,000 jobs added while economists had expected a number closer to 200,000. Equities are surging on the news, with all major averages in the U.S. up more than one percent, erasing the losses suffered since the U.K.'s Brexit referendum. 
Of course, Wall Street is also weighing in on what this means for everything from the U.S. economy to what the Federal Reserve decides to do with interest rates in the coming months. Here are some of their thoughts:
Bill Gross of Janus Capital Group Inc. told Bloomberg Television that the number won't cause the Federal Reserve to raise interest rates any sooner than it would have before the report:
"Things aren't as hunky-dory as the 287,000 suggests...I think the Fed stays where it is."
Peter Boockvar of The Lindsey Group LLC agreed with Gross in that this number doesn't change the path of future rate hikes:
"[I]t is great to see the big upside surprise but smoothing out the monthly noise puts the 3 month job average to only 147k and the 6 month average to 172k. This compares with 229k in 2015 and 251k in 2014...As for what today's number means for the Fed, I think nothing, as a 3 month average job gain of about 150k doesn't scream rate hike in light of what is going on overseas and in the context of a slowing trend."
Michael Dolega of the Toronto-Dominion Bank had an opposing view, saying that this number gives the chance of a rate hike slightly better odds:
"The bottom line is that seeing through the month-to-month volatility, the U.S. job market is healthy and job growth – at nearly 150k – is right as rain at this point in the economic cycle. The makeup and breadth of the gains offers further confirmation of the strength of the labor market recovery. And while there were a couple of blemishes on the report, these do not appear overly concerning. Ultimately, we believe the report nudges up the chances of a rate hike later this year, however our base case view is for the Committee to remain on hold until mid-2017."
Kevin Logan and Ryan Wang at HSBC Holdings PLC said that looking at the underlying trend in the jobs number is far more important than the month to month reports: 
"Nonfarm payrolls rose 287,000 in June (consensus 180,000), surprising strongly to the upside. We do not believe this outcome indicates a strong acceleration in underlying job gains, but rather it confirms that weakness in May was likely related to calendar or seasonal quirks. Average hourly earnings rose only 0.1 percent in June, but the y-o-y rate of increase climbed to 2.6 percent. Labor force participation increased in June after a decline in May. Again, we believe these gyrations may be obscuring a relatively stable underlying trend."
Michael Gapen and his team at Barclays PLC said that this number alone might not cause the Fed to be more confident in tightening monetary policy, but continued strength in the coming weeks and months could: 
"If July payrolls show continued strength, a healthier trend reading of job growth would be consistent with reduced recession risk, in our view. For the Fed, this morning's print will give some FOMC members confidence that underlying U.S. labor market health has not deteriorated, as the May report had suggested. We maintain our view that better labor market and activity data in the coming weeks will bolster the near-term outlook for policy tightening and re-affirm our confidence that the expansion remains intact. Should the bounce back in payrolls prove transitory, risks of a looser policy path in line with current market pricing would remain."
Rick Rieder of BlackRock, Inc. wasn't too optimistic on interest rates rising in the near future: 
"[M]uch more normalization this year may be difficult for the central bank to accomplish, particularly as slowing in labor market growth in the U.S. is likely, and the central bank will have to consider the uncertainty and tightening financial conditions resulting from the recent Brexit vote in the U.K alongside a moderating global growth dynamic accompanied by very easy monetary policy elsewhere. In the end, investors will have to contend with the fact that rates are going to be much lower for longer and generating return in fixed income markets will continue to be challenging, requiring a different toolkit than the traditional one previously used."
Bespoke Investment Group LLC points out just how big of a beat this number was:
"After an abysmal headline Non Farm Payrolls report for May, June saw a complete 180-degree turn with this morning's reported reading for total non farm payrolls coming in at 287K compared to expectations for a gain of 180K. That beat of 107K qualifies as the best headline print relative to expectations since December 2009 (November 2009 report), and based on our Economic Indicator Database, the 10th best report relative to expectations since 1998."
Peter Tchir of Brean Capital LLC also thought this report could increase the chances of a rate hike this year:
"While the report is good, not great, I expect it will give someone at the Fed the opportunity to put some meeting on the table - which the markets don't seem to be prepared for."
Michael J. Gregory of BMO Capital Markets Corp. said this report was strong, and that the Fed should hike in December:
"The pace of labour market improvement is picking up again… April and May were head fakes. As long as UK, EU and, yes, US politicians don't muck things up, American consumers should get down to business… the business of buying stuff (including living spaces) to drive the 72% of the economy this commands. It still looks like another holiday rate hike to us."
Royce Mendes of CIBC World Markets Inc. said that many market participants can rest easy after this strong report: 
"There was a lot of focus on today's payroll release with the past two reports showing softness in the labour market. Another weak report would have signaled that the labour market wasn't immune to global headwinds. But markets can now breathe a sigh of relief after headline payrolls showed the largest job gain in eight months."