Ukraine Confronts Mammoth Task of Fixing Its Soviet-Era Roads
by
90% of Ukrainian roads haven't been repaired for 30 years

World Bank, EBRD help Ukraine to attract investment for roads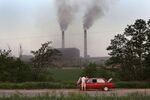 With armed conflict still simmering in Ukraine's eastern regions, the government is starting to face another daunting task: repairing a road network which mostly hasn't been touched since well before the collapse of the Soviet Union.
Authorities in Kiev are looking for sources of investment and have invited the World Bank to help draw up plans to improve 170,000 kilometers of roads, of which 90 percent have not been upgraded for over 30 years. Prime Minister Volodymyr Hroisman's cabinet wants to make sure foreign companies face no administrative barriers in bidding for reconstruction projects, Infrastructure Minister Volodymyr Omelyan said in an interview.
Ukraine, Europe's largest country by area after Russia, needs navigable roads and railways to support one of the region's biggest concentrations of heavy industry and sustain its role as a major grain exporter worldwide via the Black Sea. Besides the war with separatists and mutual trade sanctions with Russia, the cabinet and its western donors are grappling with a legacy of red tape and corruption as they try to revitalize the economy.
"We want to maximally liberalize our approach to tenders for road works and to allow foreign companies to bid," Omelyan said.
Tolls, Fines
While the state budget has 19 billion hryvnia ($764 million) available this year for road renovations, the government still faces "technical difficulties" in finding contractors and ensuring the desired quality, he said.
The government is setting up a road fund designed to accumulate at least 40 billion hryvnia per year for road renovation and construction. Fuel excise duty, tolls and fines for transgressions such as exceeding weight limits will generate cash for the fund, Omelyan said. The ministry has set round-the-clock weight and dimension control points in 12 regions as of this week and aims to expand throughout all key roads.
Ukraine plans to offer concession projects and to introduce paid highways to attract the interest of private investors, the minister said. A new route around the capital Kiev and one linking Kiev to the port city Odessa on the Black Sea may be of among development areas of most interest for investors, he said.
Omelyan expects the law on concessions to be approved by parliament and a road network strategy to be drawn up with the World Bank by the end of the year or in early 2017. The European Bank for Reconstruction and Development is assisting Ukraine with funds to draw up the law on concessions.
Before it's here, it's on the Bloomberg Terminal.
LEARN MORE