S&P 500 Near Record as Jobs Data Caps Post-Brexit Gain
by
Strongest job gains since October give stocks another leg up

Banks, consumer shares pace rally amid optimism on economy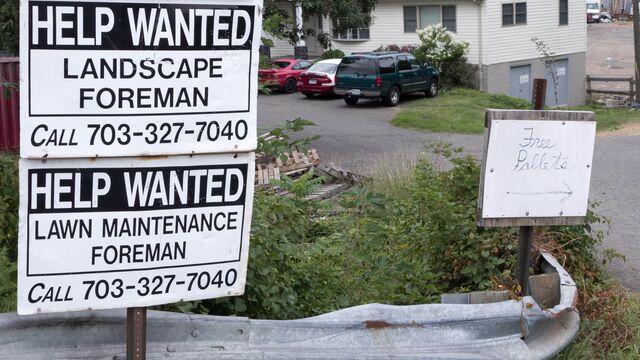 A week's evidence that the U.S. economy's ill health has been overstated and dovish talk from the Federal Reserve combined to briefly catapult the S&P 500 Index above its May 2015 record close, leaving stocks on the brink of ending their longest drought of the bull market.
Gains on Friday capped an eight-day rebound of 6.5 percent that restored $1.4 trillion of market capitalization to U.S. shares, value that was erased in the aftermath of the U.K. vote to leave the European Union. The S&P 500 advanced more than 1 percent for the fourth time in two weeks, after stronger June payroll growth calmed concerns sown by May's anemic number. Banks, technology and retailer shares were among the biggest contributors to the rally.
The benchmark gauge surged as much as 1.6 percent before closing less than a point below the all-time high. It has spent 285 days trading without making a fresh record, the longest stretch outside a bear market since a 323-day drought in 1985. The pause came amid concern over rising interest rates and falling profits, after the index more than tripled from its 2009 bottom.
Starting with a report Wednesday showing service providers expanded in June at the fastest pace in seven months, and continuing with Fed minutes that indicated less urgency in the need to raise interest rates, investors have been treated to enough good news to put the Brexit trauma behind them.
"We always felt that the Brexit selloff was overstated, so we're not surprised at the speed of the recovery as we approach all-time highs," said Bruce Bittles, chief investment strategist at Milwaukee-based Robert W. Baird, which oversees $110 billion. "Stocks have no competition from the bond market. We had 16 straight weeks of outflows, and now the higher price is going to pull people back into the market."
The S&P 500 added 1.5 percent to 2,129.90 at 4 p.m. in New York, closing at its highest since May 21, 2015, after briefly exceeding the record of 2,130.82. The Dow Jones Industrial Average rose 250.86 points, or 1.4 percent, to 18,146.74, a 13-month high. The Nasdaq Composite Index advanced 1.6 percent to the highest in four weeks. About 7.1 billion shares traded hands on U.S. exchanges, in line with the three-month average.
A report today showed America's job market stirred to life after a two-month lull, as payrolls climbed by the most since October, exceeding the highest estimate in a Bloomberg survey. The jobless rate rose to 4.9 percent as more people entered the labor force, while wages advanced less than projected. Revisions to prior reports subtracted a total of 6,000 jobs to overall payrolls in the previous two months.
The valuations edge held by stocks over bonds has gotten extreme of late as government debt rallied, with the S&P 500's earnings yield -- profits as a proportion of share price -- climbing above 5 percent, or about 3.7 percentage points above the 10-year Treasury rate. The gap is wider than any point during the 2002-2007 rally.
The jobs data will help reassure policy makers that companies are staying the course on hiring in the face of weaker profits and overseas developments such as Britain's vote to leave the EU. Federal Reserve officials flagged concern over job creation at their last meeting, signaling fading urgency for the need to increase interest rates.

"The strength you're seeing in U.S. equities is a knee-jerk reaction to any kind of big number that comes out," said Stephen Carl, principal and head equity trader at Williams Capital Group LP. "This will only add to the Fed's indecision over what to do. The conviction for a Fed rate hike won't quite be there yet, which could explain why we're reacting positively."
The one-two punch from May's weak employment report and the U.K.'s vote to secede had all but erased any wagers on a Fed rate increase this month, after probabilities for a move were 55 percent at the beginning of June. Despite the rebound in job gains last month, traders are still pricing in less than even odds of a boost to borrowing costs until December 2017.
VIX Slides
As latest bout of global anxiety ebbs, the CBOE Volatility Index sank 11 percent Friday to 13.20, a six-week low. The measure of market turbulence known as the VIX marked the first back-to-back weekly declines since April while slipping 15 percent in the last three days. A Goldman Sachs basket of most shorted shares in the Russell 3000 Index rallied for the seventh time in eight days, rising 12 percent in the period.
Investors are also waiting for cues on the health of corporate America, with Alcoa Inc. unofficially kicking off the second-quarter earnings season next week. Analysts predict profits will drop 5.7 percent at S&P 500 firms, which would make it the fifth straight quarterly decline, the longest streak since 2009.
The rally in 2016 has been led by double-digit gains in industries often considered by investors as "defensive" groups. Utility and phone companies are up the most on the year, posting advances of at least 20 percent, with utilities this week reaching a record. In Friday's trading, all of the S&P 500's 10 main industries rose, with raw-materials, industrial, financial and consumer discretionary companies adding more than 1.7 percent.
Raw-materials posted their biggest one-day gain in four months, rising 2.5 percent. Dow Chemical Co. and Monsanto Co. rose at least 2 percent. Alcoa advanced 5.1 percent, the most in two months before its earnings report scheduled for Monday, while Freeport-McMoRan Inc. gained 5 percent.
Financials, Industrials
Financial stocks in the benchmark climbed 1.8 percent, paced by CBRE Group Inc.'s 6.4 percent increase and the biggest gain since January for Synchrony Financial. The private label credit-card issuer's stock rose 5 percent after its inaugural dividend exceeded analyst estimates. Wells Fargo & Co. and the KBW Bank Index increased at least 1.8 percent.
All 68 companies in the S&P 500 Industrials Index rose at least 0.4 percent on Friday, sending the group to the highest level since Feb. 20. Acuity Brands Inc. and United Rentals Inc. gained at least 4.3 percent. Delta Air Lines Inc. and United Continental Holdings Inc. climbed more than 2.7 percent as U.S. carriers rebounded for a second day. Caterpillar Inc. gained 3.1 percent, its best since April and strongest in the Dow.
The stronger job gains resonated in consumer discretionary stocks, with a group of retailers rising to a record. Gap Inc. jumped 5 percent, the most in almost five months. The biggest U.S. apparel-focused retailer posted June sales that topped analysts' estimates, a sign its long-promised turnaround could be taking hold. Car dealers AutoNation Inc. and CarMax Inc. added more than 4.2 percent, while Home Depot In. advanced 2.4 percent to a seven-week high.
Among shares moving on corporate news, Juno Therapeutics Inc. plunged 32 percent, the most since going public in 2014, after after three patients died in a trial for its lead cancer therapy and U.S. regulators put the study on hold.
(
Corrects third paragraph of story from July 8 to show streak was longest since 1985, not 1960s.
)
Before it's here, it's on the Bloomberg Terminal.
LEARN MORE