U.S. ELECTION WRAP: Tests Await Clinton, Trump After Dallas
Everything you need to know.
By and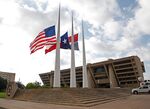 Hillary Clinton and Donald Trump canceled campaign events Friday following the Dallas sniper killings of five police officers, Bloomberg's Elizabeth Titus reports, and they offered condolences to relatives of the Texas victims as well as those of the two African-American men killed by police in La. and Minn. earlier this week.