politics
U.S. ELECTION WRAP: Tests Await Clinton, Trump After Dallas
Everything you need to know.
By and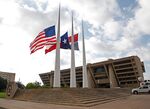 Hillary Clinton and Donald Trump canceled campaign events Friday following the Dallas sniper killings of five police officers, Bloomberg's Elizabeth Titus reports, and they offered condolences to relatives of the Texas victims as well as those of the two African-American men killed by police in La. and Minn. earlier this week.
Longer-term, the tragedies loom as tests for each on the divisive issues of race relations, police relationships with minorities and gun violence, Bloomberg's Michael C. Bender and Justin Sink write

Trump called the shootings an "attack on our country" and said "we must restore law and order"
The New York Police Dept. declined Trump's request to speak to its officers, the NY Daily News reports, with Police Chief Bill Bratton saying this was not a moment for "photo ops"

Clinton called Dallas Mayor Mike Rawlings and Dallas County Judge Clay Jenkins to offer help
Meanwhile, Corey Stewart, chairman of Trump's Va. campaign, blamed Clinton and other "liberal politicians" for the deaths in Dallas, writing on Facebook that those "who label police as racists -- specifically Hillary Clinton and Virginia Lt. Gov. Ralph Northam -- are to blame for essentially encouraging the murder of these police officers tonight"

Trump campaign condemned the comments to the NY Times, and Stewart took down his post
Northam, who may end up pitted against Stewart in Va.'s 2017 gubernatorial race, told the Washington Post "there is no place in this commonwealth for this divisive rhetoric, which only serves to politicize a national tragedy"
Stewart, in a response to the Post, essentially doubled down, saying President Obama, Clinton and the Black Lives Matter movement "pit the black community against police for their own political gain by jumping to conclusions before all the facts are known in police shootings"
Donald Trump Jr. re-tweeted an article saying Black Lives Matter protesters had called for killing police officers on Twitter
Click here to subscribe to the U.S. Election Wrap

ON THE TRAIL
Clinton had planned today to campaign for the first time with VP Joe Biden in Scranton, Pa., and Trump was scheduled to stump in Miami after a private lunch with Sen. Marco Rubio and N.J. Gov. Chris Christie

VEEPSTAKES
Michael Flynn emerges as a potential Trump VP pick, Politico reports

An early Trump backer, Flynn was head of the Defense Intelligence Agency from 2012-14

ADVERTISING
Campaigns are focusing on digital ads, Bloomberg's Tim Higgins reports

Digital ad spending expected to rise to as much as $1b this year, media consultant Borrell Associates says
Pandora is a favorite for appealing to young minority voters
Pro-Clinton super-PAC Priorities USA Action has budgeted $35m for digital ads this year

ENDORSEMENTS/NONENDORSEMENTS
Supreme Court Justice Ruth Bader Ginsburg said "I don't want to think about" Trump as president, the Associated Press reports

Predicts next president -- "whoever she will be" --will make several appointments to Supreme Court

ETC
Trump son-in-law Jared Kushner hasn't abandoned real estate for the campaign, Bloomberg's Patrick Clark writes
NRCC Chair Greg Walden, House member from Ore., said Clinton will help GOP House candidates win races this cycle
Cleveland police are tightening security for July 18-21 GOP national convention following the attack in Dallas, Reuters reports
Click here to subscribe to the U.S. Election Wrap

CONGRESSIONAL
CA-SEN: Democratic Rep. Loretta Sanchez, who's vying for open seat in Nov.'s election against fellow Democrat Kamala Harris, nets endorsements from conservative radio host Hugh Hewitt and former R.I. Democratic Rep. Patrick Kennedy, son of former Mass. Sen. Ted Kennedy, Politico reports

Field poll released today shows Harris with 39%, Sanchez 24%, with 15% saying they won't back either and 22% undecided

FL-SEN: Republican Sen. Marco Rubio raised $2.1m in final nine days of June, according to campaign

Rubio on June 22 reversed his earlier decision to forego re-election as he sought GOP presidential nomination; he's opposed by developer Carlos Beruff in Aug. 30 primary
Alan Grayson's "bravado is matched by his colorful appearance" and he's "best known for his raw, unfiltered bluntness, sometimes to his own detriment," Miami Herald's Kristen M. Clark writes in profile of congressman competing with Rep. Patrick Murphy in Democratic primary
"I'm a professional and I'm surrounded by amateurs" and "people who do nothing," Grayson told Tampa Bay Times editorial board last week

FL-05: Democratic Rep. Corrine Brown and her chief of staff indicted on 24 counts involving fraud at education charity, Department of Justice announced

Federal prosecutors allege Brown and aide used money solicited for charity as "personal slush fund"; Brown appeared at hearing at Jacksonville federal courthouse this afternoon
Court-ordered redistricting revamped Brown's district for 2016 election, making it a Jacksonville-to-Tallahassee district instead of Jacksonville-to-Orlando district; Brown now represents 38% of the people in redrawn district, according to Bloomberg analysis
Brown, who's from Jacksonsville, opposed by former state Sen. Al Lawson of Tallahassee and former congressional aide LaShonda "L.J." Holloway of Jacksonville in primary; district heavily Democratic

HI-01: Ex-Rep. Colleen Hanabusa endorsed by Emily's List, per release from group that aids Democratic women who support abortion rights

Hanabusa represented urban Honolulu district from 2011-2015, lost 2014 primary challenge to Sen. Brian Schatz; one-term Democrat Mark Takai retiring for health reasons

NJ-05: Democrat Josh Gottheimer, seeking to unseat GOP Rep. Scott Garrett, was only challenger to House incumbent who received campaign donation from Dow Chemical Co. PAC in June, per FEC filing

Dow Chemical PAC made donations to campaign committees or leadership PACs of about two dozen incumbents in both parties; only non-incumbent other than Gottheimer who got money was Republican Brian Fitzpatrick, who's running in open PA-08 near Philadelphia
NOTE: PACs of companies with business before Congress give most of their campaign funds to incumbents, who have very high rate of re-election

NY-01: Anna Throne-Holst extended lead in Democratic primary to 188 votes after partial count of absentee ballots in race vs. David Calone, Suffolk Times reported

Throne-Holst, a former Southampton town supervisor, led by 29 votes on primary night June 28
Republican Rep. Lee Zeldin seeking second term in politically competitive district that includes eastern end of Long Island

NY-13: Democratic nominee Adriano Espaillat met yday with black politicians/community leaders in "one of the first efforts by the state senator to reach out to Harlem" since winning key primary last month, DNAinfo reported

Espaillat would become first Dominican-American congressman in history; overwhelmingly favored to win northern Manhattan and Bronx district of retiring black Democrat Charlie Rangel

TN-08: Republican Mark Luttrell in TV ad said "everybody running for Congress can talk the conservative talk," but he "walked the conservative walk" by cutting payrolls/balancing budgets as mayor of Shelby County in and around Memphis

Luttrell in big GOP field for Aug. 4 primary in strongly conservative western district of retiring Republican Steve Fincher
Click here to subscribe to the U.S. Election Wrap
Before it's here, it's on the Bloomberg Terminal.
LEARN MORE