Treasury Yields' March to Record Lows Continues After Jobs Data
By and
Yields on 10-, 30-year debt close at lowest levels on record

Shorter-dated Treasuries decline as yield curve flattens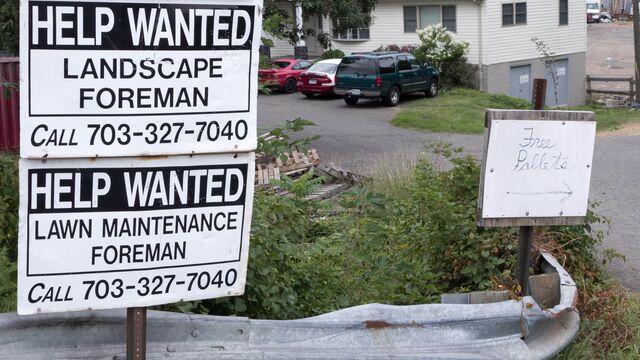 Treasury 10- and 30-year debt gained, pushing yields to the lowest closing levels on record, as a report showing the economy added the most jobs in eight months failed to dent investor appetite for longer-dated government securities.
The gains reversed earlier losses following the release of the jobs data and came even as two-year notes, which are more sensitive to Federal Reserve policy, fell as traders added to wagers that the central bank will raise interest rates this year. As a result, the gap between yields on two- and 30-year debt, a measure of the yield curve, flattened to the narrowest since 2008.

The employment data may put Fed policy makers back on track to raise rates in the coming months, after futures traders slashed bets on a 2016 hike in the wake of a weak May jobs report and Britain's vote to leave the European Union. Minutes from the Fed's June meeting released July 6 showed uncertainty about labor-market conditions contributed to the decision to leave rates unchanged. Concern about fallout from the Brexit vote, which occurred after Fed officials met, fueled a global rally in haven assets that pushed sovereign debt yields to record lows from the U.S. to Europe to Japan.
"What's particularly interesting is the bond-market reaction, with the rise in yields initially capped, suggesting an enormous number of buyers waiting in the wings amid the recent move lower in global interest rates," said Gennadiy Goldberg, an interest-rate strategist at TD Securities LLC in New York.
Yield Curve
Benchmark 10-year note yields fell three basis points, or 0.03 percentage point, to 1.3579 percent as of 5 p.m. New York time, according to Bloomberg Bond Trader data, the lowest closing level on record. U.S. 30-year bond yields fell four basis points to 2.0983 percent also the lowest on record.
Two-year note yields climbed two basis points to 0.61 percent. The gap between yields on two- and 30-year debt narrowed to 149 basis points.
"The curve is going to keep flattening," said Rick Rieder, chief investment officer for global fixed income in New York at BlackRock Inc., in an interview on Bloomberg Television. "You have a dynamic today where the demand for long-end interest rates in a world where there's not enough yield is extraordinary. That keeps pressuring the back end down."
The June payrolls climb exceeded the highest estimate in a Bloomberg survey, after a revised 11,000 gain in May. The jobless rate rose to 4.9 percent as more people entered the labor force, while wages advanced less than projected.
Futures traders assign about a 21 percent probability of a Fed rate hike by year-end, up from about 12 percent on Thursday. 
Policy makers' median forecast calls for one hike in 2016, after officials this year twice lowered their projected path for interest rates. The Federal Open Market Committee will next convene July 26-27.