Way With Words
10 Times Bobby Knight Was More Politically Incorrect Than Donald Trump
The legendary college coach has been given a speaking role at the Republican National Convention. Why? He's on message.
By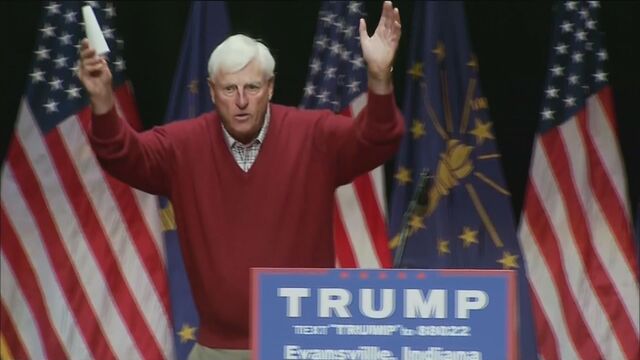 One of the many splendors of Donald Trump's speech in Cincinnati on Wednesday was his announcement that Bobby Knight, the third all-time winningest coach in college basketball, a three-time national champion, and gold medal-winning coach of the 1984 USA Basketball Olympic team (which featured Michael Jordan and Patrick Ewing), would be speaking at the Republican National Convention in Cleveland. Trump credits Knight, who actively stumped for him in Indiana (and at one point seemed to interrupt Trump mid-speech), with helping him win the state, and he has rewarded him with a speaking role, potentially in prime time.
Knight has never openly endorsed a political candidate before, but for a variety of reasons that may seem obvious, he feels a strong kinship with Trump. Perhaps more than any other public figure other than Trump, Knight has made statements that, at best, could be considered politically incorrect and at worst deeply offensive. In fact, Knight could in fact go toe-to-toe with Trump. Here are the 10 most Trumpian things Bob Knight has said or done in his long career in the public eye.
#1: While coaching the USA Basketball team in Puerto Rico at the Pan American Games of 1979, Knight assaulted a Puerto Rican police officer over a dispute about practice time at a gym the U.S. team shared with the Brazilian women's team. (Knight says the officer attacked him first.) Knight was arrested and handcuffed, and the officer he hit pressed charges. At a hearing, a judge charged Knight with aggravated assault. A U.S. team official who'd attended the hearing was quoted in Sports Illustrated saying that the officer testified that Knight called the Brazilian women "whores" and called the officer a "n-gger." Knight left Puerto Rico, was never extradited, and never returned to the country.
#2: In a 1988 interview with Connie Chung, when asked about how he handled stress, he said, "If rape is inevitable, relax and enjoy it."
#3: As a "joke," Knight brought a whip to a practice and swung it at his players. Later, he would bring it to a press conference and direct it toward African-American guard Calbert Cheaney. Knight said, "Probably no motivational device I've ever come across is as good as this. … You can watch the blood drip out of it."
#4: The Chair Throw:
#5: Knight's hatred for the media may exceed even Trump's, though, like Trump, he has always courted it and used it for his own ends. Trump calls reporters lowlife. Knight does this:
#6: Knight gave the most infamous halftime speech of all time, thought to be secretly recorded by assistant (and future NBA coach) Lawrence Frank.
#7: Knight once choked a player, Neil Reed, at practice, an incident caught on videotape. Knight said that he considered the incident "minor" and that much worse had gone on during practice throughout his career. Most of his players agreed.
#8: In 2007, neighbors accused Knight of hunting too close to their private residence in Lubbock, Texas, and one even said Knight hit him with pellets. The confrontation was caught on tape. Knight was, as usual, not demure.
#9: In a coaching DVD released in 2009, Knight quoted Nathan Bedford Forrest, the former Confederate general and first grand wizard of the Ku Klux Klan, in a flattering context.
#10: Perhaps the most mysterious and terrifying of them all is the time, at an awards ceremony, that former Knight player Isiah Thomas told the story of "sunt"—or started to. Thomas is about to reveal Knight's teachings about the word, but looks over at Knight, who's glaring scarily. What's "sunt?" It may be better that we never figure it out. He's going to fit in in Cleveland just fine.
—Will Leitch reports for Bloomberg Politics on the intersection of politics and media.
Before it's here, it's on the Bloomberg Terminal.
LEARN MORE