Italy State Intervention on Banks May Be Needed, Visco Says
By , , and
Visco says problems could undermine trust in banking sector

Bank of Italy governor speaks to Italian Banking Association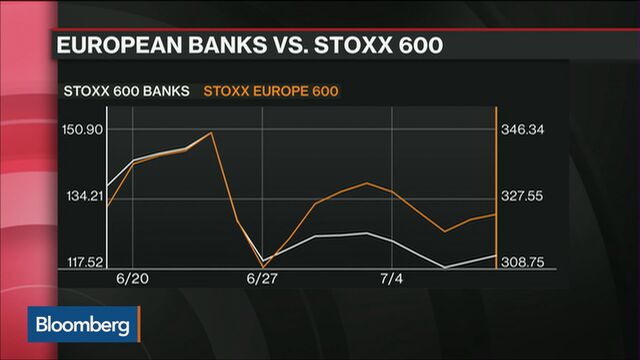 State intervention to support Italian banks may be needed because of the risk that current difficulties could undermine trust in the nation's financial industry, said Bank of Italy Governor Ignazio Visco.
"Given the risk that, in a context of high uncertainty, limited problems could undermine the trust in the banking system, a public intervention cannot be excluded," Visco said in a speech on Friday at the Italian Banking Association's annual meeting in Rome.
Italian authorities are racing to shore up a financial system burdened by about 360 billion euros ($399 billion) of troubled loans, amid the ECB's increasing pressure on Italian lenders to clean up their balance sheets and tackle troubled loans that are undermining lending. Prime Minister Matteo Renzi is exploring measures to support Banca Monte dei Paschi di Siena SpA and other weak banks after Britain's vote to leave the European Union exacerbated a selloff in Italy's lenders.
Speaking at the same event in Rome, Finance Minister Pier Carlo Padoan said market solutions could solve banks' difficulties, adding that the government was working to make tools available if needed. He said any state intervention would have to be precautionary.
Visco, who is also a member of the European Central Bank's Governing Council, said the Bank of Italy was working "together with the other authorities, with determination, to promote efficient market interventions" to support Italian banks.
"European regulations provide for the possibility of precautionary public interventions also on capitalization, with reference to the results of stress tests," Visco said. "The current situation, thick with risks for financial stability, requests the readying of a state backstop to activate in case of necessity, fully respecting EU rules."
European Commission
Italy is in talks with the European Commission on a plan to recapitalize Monte Paschi and other banks, according to people familiar with the matter. Talks are stuck on whether creditors should face losses if taxpayer funds are used. Italy favors a precautionary re-capitalization under the European Union's bank-resolution rules, which allow governments to bolster lenders when capital gaps emerge in stress tests, said the people.
"Visco is stating the facts but the markets will be reassured only when there is a credible plan," Jacopo Ceccatelli, Chief Executive Officer of Marzotto SIM SpA, a Milan-based broker-dealer, said in a phone interview. "My fear is that there will be a solution for Monte Paschi, which is at the forefront of the crisis, but not a general plan for the whole banking sector."
Snowball Effect
Ceccatelli said authorities need to come up with a plan to address non-performing loans on banks' books. He said the Atlante bank support fund could be of use but such vehicles needed to be bigger. "Post-Brexit, the snowball effect and the possibility of a lender going under has increased very much," he said.
As the talks with the Commission drag on, Dutch Finance Minister Jeroen Dijsselbloem, who is also chairman of the Eurogroup, told reporters in The Hague that Italian banks were not facing an immediate crisis. "At a certain point, you need to take the losses, take precautionary measures, that will cost money, and the bank, or banks, are going to have to do it," Dijsselbloem said on Friday.
Monte Paschi is working "intensely" with authorities to quickly resolve its bad-loan burden, Chief Executive Officer Fabrizio Viola said on Thursday. Viola said Monte Paschi's board reviewed the ECB's draft request that it reduce its non-performing loans, and the board agreed on a response, according to an e-mailed statement. Monte Paschi will subsequently disclose details of the ECB's request once it receives a final version.
Visco said the U.K. referendum to leave the European Union affected the euro-zone at a time when "the economic recovery has begun but is fragile." In that context, it was even more necessary "to avoid that further delays in the introduction of instruments of supra-national intervention worsen the vulnerability of the area and make it harder to react adequately to shocks and to counter the start of effects of contagion."