Spain's Top Soccer League Mulls Two $39 Million Sponsorship Bids
By
Sponsors must provide global branding plan to win agreement

League includes European giants Real Madrid and Barcelona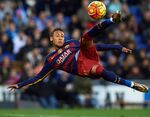 Spain's soccer league is considering offers of as much as 35 million euros ($39 million) a season from two potential sponsors of a top division that includes Real Madrid and Barcelona, a league official said.
Long overshadowed by its best teams, La Liga is campaigning to become a global brand like England's Premier League, and its marketing director Adolfo Bara has spent the past year touring much of the world touting for business. The league will decide whether to accept either of the two offers by the end of July, he said by phone Friday. Another option is to follow the Premier League and have a so-called "clean brand."
"We still have not decided whether we will name La Liga or not, but fortunately we have two offers on the table," Bara said by phone.
The decision will depend on how much the companies -- one Spanish and the other from overseas -- will help promote the league outside Spain, he said. The Premier League decided not to replace longtime sponsor Barclays Plc from next season.
Global reach is a new ambition for Spanish soccer. Until recently, the league's business strategy was deeply provincial, even as its teams consistently ranked among the best in Europe. Clubs sold sponsorship and television deals individually and shared little revenue. Top teams like Real Madrid and Barcelona got wildly rich, while smaller teams fell behind, with several close to bankruptcy following the 2008 financial crisis. Three years ago, a collective-selling agreement was reached, which included TV rights and some sponsorship inventory.
"Is this brand going to help us or not and how much they are going to invest in pushing the league?" Bara said. The league's previous title sponsorship deal with Banco Bilbao Vizcaya Argentaria SA ended at the end of last season.
La Liga is home to some of the world's top players, including Lionel Messi and Cristiano Ronaldo, and its teams won both of European soccer's top club competitions last season.
Earlier this week, the league announced it had renewed a partnership that will see Nike Inc. supply balls through 2019. Next week, watchmaker Tag Heuer will be unveiled as the league's official timekeeping partner, Bara said.