Soccer Meets NATO as New European Order Sees French Victory
By and
Hollande says 'hardest is yet to come' for France facing final

Merkel told Hollande the best team won after 2-0 defeat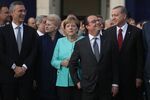 Chancellor Angela Merkel arrived at the NATO summit already vanquished.
Her beloved national soccer side defeated by France, the German chancellor looked somber in turquoise as she took her place among her fellow North Atlantic Treaty Organization allies in Warsaw on Friday.
And no wonder. Everywhere she turned there were reminders of the European championships, its winners and losers.
President Francois Hollande was still basking in the reflected glory of the French team's victory over the world champions in Marseille on the eve of the summit.
There was Portuguese Prime Minister Antonio Costa, beaming for the cameras even after his government was court martialed by the European Union's budget enforcers the previous day for its fiscal flamboyance. His side will face France in the final in Paris Sunday -- a match which Hollande expects to result in a 3-0 victory for the hosts, he told journalists at the summit.
The NATO venue happened to be the Polish national soccer stadium, where the previous European championship finals were held in 2012. Spain, another NATO member, won.
Around the stadium were posters with the slogan "Wales to Warsaw:" A reference to the location of 2014's NATO summit, and one which couldn't help but evoke the Welsh team's spectacular and unexpected progression to the semi-finals. And Germany's equally spectacular and unexpected downfall at the same stage of the tournament.
To be sure, others had their own sporting burdens to bear. Opening the summit, the host, Polish President Andrzej Duda, referred to Poland having "come a long way." Not long enough; the national side went out at the quarter-final stage to Portugal. The team of Turkish President Recep Tayyip Erdogan, himself a former semi-professional player, didn't even get that far. They crashed out in the first round after a sequence of hapless performances.
There were compensations for German's soccer-loving chancellor, who regularly attends national team games and was present in Rio de Janeiro in 2014, when Germany won the soccer World Cup for the fourth time. While Merkel will pass on this year's final, and the chance of further national glory, neither was she present for Germany's downfall. She left that job to her coalition partner, so that domestically at least she could claim to have pulled off a modicum of victory in defeat.
"There's still the final to go," cautioned Hollande, who faces elections next year with polls showing him to be the most unpopular president in French history.
He hailed his country's players for their first defeat of Germany in a major competition for more than half a century, and thanked Merkel too for calling to offer her congratulations, saying that the best team had won.
"We mustn't get ahead of ourselves," he said. "The hardest is yet to come."