QuickTake Q&A: How Police Shootings Feed Off U.S. Strife on Race
By and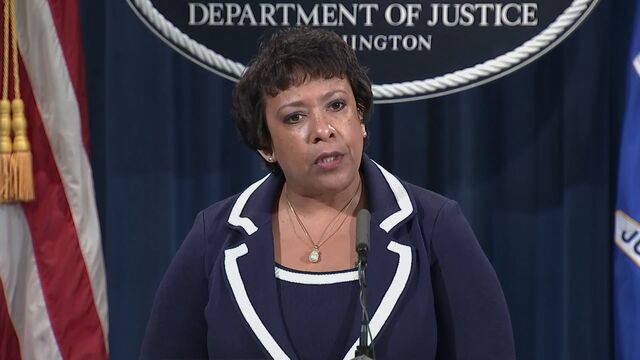 At the intersection of race relations and deadly force in America sits a powder keg. Black people are disproportionately among the relatively small number of unarmed civilians killed by police each year. In the most recent high-profile incidents, a black man reported to have had a gun in his pocket was killed on July 5 by police in Louisiana. The next day in Minnesota, a black man who was reported to have told police he had a legally registered gun in his car was shot and killed. A peaceful march in Dallas on July 7 to protest those two shootings ended with the ambush that killed five officers. Before being killed, the Dallas gunman told police negotiators that he was "upset about the recent police shootings," according to the city's police chief.
1. How big is the problem?
The U.S. government doesn't keep a comprehensive count of shootings by law enforcement -- a data gap that FBI Director James Comey has called "embarrassing and ridiculous." An ongoing Washington Post tally identified 990 fatal shootings in 2015. In 88 percent of those cases, the civilian who was killed had a deadly weapon, a vehicle or a toy weapon. But of the 93 unarmed civilians killed by police, more than 40 percent were black. A similar pattern is developing in 2016. These numbers give rise to concerns that police are using unnecessary force particularly against racial minorities.
2. Are police officers being punished?
Sometimes. A grand jury declined to indict a Ferguson, Missouri, police officer in the shooting of Michael Brown. In the case of Eric Garner, who died in a police choke hold, a New York grand jury declined to indict the officer. The South Carolina officer caught on video shooting a fleeing suspect, Walter Scott, in the back is facing trial for murder. The volunteer reserve sheriff's deputy who pulled and shot his gun rather than his Taser, killing Eric Harris in Tulsa, Oklahoma, was convicted of manslaughter. In a high-profile case not involving guns, the death of Freddie Gray while in custody of Baltimore police, the prosecution of six officers ended without a single conviction.
3. How did we get here?
The tension over race relations that's baked into the American system tends to flare up over law enforcement and justice issues. The beating of a black cab driver, Rodney King, by Los Angeles police prompted riots in 1992 when the officers were acquitted. These days, police confrontations are increasingly captured on amateur video and swiftly disseminated on social media, assuring national attention to what once were local stories.
4. What is Black Lives Matter?
It's a diffuse national movement that began as a Twitter hashtag following the 2013 acquittal of George Zimmerman, the armed civilian neighborhood watch volunteer who killed 17-year-old Trayvon Martin in Sanford, Florida. Leaders say they hope to broaden the movement "to include all of the ways in which black people are intentionally left powerless at the hands of the state." Some critics of the movement use the counter-slogan "All Lives Matter."
5. Could this become an election issue?
Yes, though not one that cleanly cleaves along party lines. Republican Donald Trump has been critical of Black Lives Matter protesters and has said police "are the most mistreated people in this country." Democrat Hillary Clinton met with, but didn't necessarily impress, Black Lives Matter organizers, and some of their protesters disrupted a speech by Clinton's famous husband.
The Reference Shelf
A QuickTake explainer on guns and mass shootings in the U.S.
A QuickTake explainer on racial profiling.
The Washington Post's 2016 database of fatal police shootings.
Before it's here, it's on the Bloomberg Terminal.
LEARN MORE