business
Putin Seen as Both Partner and Adversary as NATO Boosts East
By and
Hollande says Russia is a partner as others demand security

NATO will inform Russia of outcome of Warsaw summit next week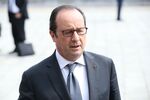 Russia shouldn't be considered an adversary, but rather a "partner that can, at times, use force," Francois Hollande said as he arrived at a summit of NATO leaders.
The French president's remark not only summed up NATO's complex relationship with its largest and most aggressive neighbor; it also revealed how its 28 leaders are struggling to come up with a unified message to send to Vladimir Putin more than two years after he snatched Crimea from Ukraine.

"Russia is part of the problem, but at the same time it has to be part of the solution," Greek Prime Minister Alexis Tsipras told his peers at the summit, according to a transcript e-mailed by his office.
The linguistic acrobatics were characteristic of the different approaches deployed by leaders as they gathered in Warsaw Friday for their first summit since 2014. Others -- particularly those closer to Moscow geographically -- were less accommodating of the Russian president's actions along the alliance's border.
"The world has offered Russia all it could," Polish Foreign Minister Witold Waszczykowski said.  "It changed nothing."
The defense initiatives NATO rolled out at the two-day summit suggested that, whatever Hollande's view, most of the alliance's leaders side with their Polish hosts in considering Russia more of an adversary than a partner.
Russia may share the assessment: Former Soviet Union leader Mikhail Gorbachev said decisions taken by NATO at the summit showed the alliance was "preparing a real war," according to the Interfax news agency on Saturday.
'New Reality'
The summit gave its rubber stamp to a longstanding plan to deploy NATO troops in four eastern European countries bordering Russia, a move that Secretary General Jens Stoltenberg said "will last as long as necessary" to deal with "a new reality." It tripled to 40,000 the size of its force that's ready to respond swiftly to a Russian military incursion, beefed up its missile defense system and its ability to confront cyber attacks.
Even as the western alliance shifts it weight towards its eastern borders, Stoltenberg was quick to point out that the relationship with Russia hasn't descended into a new cold war and sought to calm Kremlin concerns that the action was more attack than defense.
"NATO poses no threat to any country, we do not want a nuclear war, we do not want a new arms race and we don't seek confrontation," Stoltenberg told reporters after the summit's first session, and before a more informal leaders' dinner where Russia was again due to be the main topic of discussion.
President Barack Obama, who is traveling to Spain after the summit, will cut his European trip short by a day to go to Dallas, where a shooting attack left five of the city's police officers dead and seven others wounded. He'll travel to Dallas early next week at the invitation of Mayor Mike Rawlings, according to a statement late Friday from White House press secretary Josh Earnest.
No Isolation
Communication between NATO and Russia has decreased sharply since Putin invaded Ukraine in 2014, but Stoltenberg has convened a meeting between the alliance's ambassadors and Russian representatives in Brussels on Wednesday.
"Russia cannot and should not be isolated," Stoltenberg said. "With increased military activity in and around Europe, we have an interest in agreeing the rules of the road."
Wednesday's meeting will above all be about transparency and an exchange of information on both sides to avert risks, according to German Chancellor Angela Merkel, who cited some "really dangerous situations" that have arisen in the Baltic region.
"It's in the interest of both sides that NATO and Russia coordinate very closely on their respective activities, as for example in Syria there were discussions between the U.S. and Russia," Merkel told reporters.
Security First
If some of the soothing rhetoric was intended to forestall accusations of saber rattling, NATO members are also pursuing forms of engagement true to their stated aim of dialog. Hollande and Merkel spoke with Putin on Friday to inch forward the aim of securing a peaceful settlement in eastern Ukraine.
Russia itself is watching the summit very closely, Kremlin Spokesman Dmitry Peskov told reporters back home. "It's not us getting closer to NATO borders," said Peskov. "NATO is the one placing troops, aircraft near Russian borders."
Latvian's President Raimonds Vejonis said that NATO's deployment of four battalions to eastern Europe could "under no circumstances" be considered a threat to Russia given the size of Putin's reciprocal troop build-up and his form in Ukraine, Georgia and along the alliance's eastern perimeter.
"We may be committed to engage with Russia as a partner," Vejonis told a panel outside the main summit. "But let us be clear. This dialog will only be successful if it is conducted from a position of security."
— With assistance by Arne Delfs, Alex Morales, Nikos Chrysoloras, Helene Fouquet, Marek Strzelecki, Stepan Kravchenko, and Konrad Krasuski
(
Updates with Gorbachev in seventh paragraph; Obama travel plans in 10th.
)
Before it's here, it's on the Bloomberg Terminal.
LEARN MORE