Obama Tells Poland Rule of Law, Free Judiciary Make a Democracy
By and
Obama says concerned about 'impasse' over Poland's top court

Remarks pressure Polish government as it revamps tribunal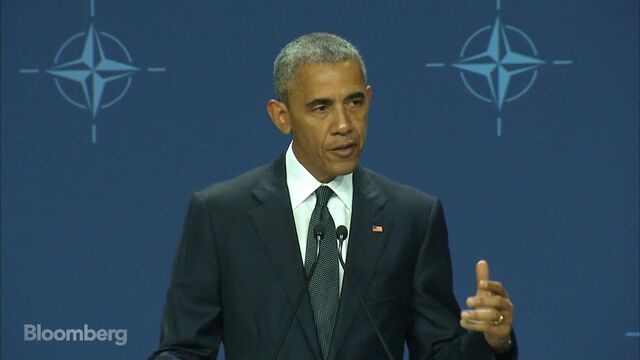 U.S. President Barack Obama said Poland must do more to sustain the democratic values that helped transform the former communist country into a NATO and European Union member.
Poland is falling out with allies in Brussels and Washington amid concern it's undermining rule of law by passing legislation that overhauls media and the country's Constitutional Tribunal, accusations the government rejects. While the ruling Law & Justice party openly talks about taking Poland out of the "EU mainstream" to pursue more "patriotic" policies, it relies on the U.S. for its security, adding sting to Obama's comments made during a trip to Warsaw for a summit of the NATO military alliance.
"As your friends and ally we've urged all parties to work together to sustain Poland's democratic institutions," Obama said on Friday after meeting his Polish counterpart Andrzej Duda. "That's what makes us democracies, not just by the words written in constitutions or in the fact that we vote in elections, but the institutions we depend on every day -- such as rule of law, independent judiciaries and a free press."
Just hours before Obama's arrival, Law & Justice rushed through the lower house of parliament another revamp of the Constitutional court, which ignored recommendations from the EU's executive and was criticized by the country's ombudsman and its non-partisan national judiciary council. The European Commission started an unprecedented check into a member state's democratic standards following an overhaul of the tribunal, while S&P Global Ratings handed the country it's first-ever credit-rating downgrade in January, citing concern over the independence of key institutions.
Free Elections
Poland has repeatedly rejected allegations that it's eroding democracy, saying that it won power in free and fair elections last year and that opposition forces have the right to protest against any policies they disagree with. Issues surrounding the Constitutional Tribunal are being resolved through a "process of political dialog" in Poland's parliament, Foreign Minister Witold Waszczykowski told reporters in Warsaw, before Obama's remarks.
Click here for a story about Poland's latest attempt to overhaul the top court
The latest court overhaul, which still needs to be passed by the Senate and signed by Duda to become binding, "poses a serious threat to the rule of law," according to Nils Muiznieks, the Commissioner for Human Rights at the Council of Europe, a democracy watchdog.
"I expressed to President Duda our concerns about certain actions and the impasse around Poland's constitutional tribunal," Obama said. "I insisted that we are very respectful of Poland's sovereignty and I recognized that parliament is working on legislation to take important steps but more needs to be done."
Before it's here, it's on the Bloomberg Terminal.
LEARN MORE