Obama Decries 'Vicious, Calculated' Attack on Police in Dallas
By and
President says the federal government will assist city, police

Obama says 'no justification' for attack that left 5 dead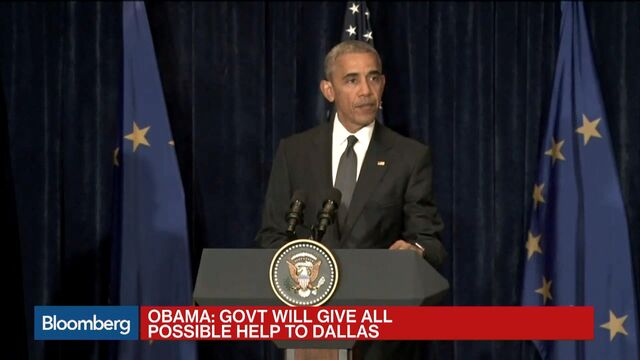 President Barack Obama said Thursday he was "horrified" by shootings in Dallas that left at least five police officers dead, and offered federal assistance in responding to and investigating the massacre.
"There's been a vicious, calculated and despicable attack on law enforcement," Obama said Friday morning in Warsaw, following a meeting with European Commission President Jean-Claude Juncker and European Council President Donald Tusk on the sidelines of a NATO summit.

The shootings came during what had been a peaceful protest against the killing of black men by police in Louisiana and Minnesota earlier this week. Dallas police said they had taken three people into custody and a fourth man died after a prolonged standoff in a nearby parking garage.
A total of 10 officers were injured in the initial attack, with another sustaining injuries during a subsequent exchange of gunfire with the suspect holed up in the parking garage. It was the deadliest incident for law enforcement in the United States since the September 11, 2001 terrorist attacks, according to the National Law Enforcement Officers Memorial Fund.
Three People in Custody After Snipers Kill Five Police Officers in Dallas
Obama said that while the motivations of the suspects were not yet known, there was "no possible justification for these kind of attacks." He also said Americans would have to consider the realities that came with the availability of "powerful weapons," a nod to his standing desire for additional gun controls.

The shooting came just hours after Obama implored Americans to "do better" in addressing issues of racial bias in the criminal justice system. He said protests decrying instances of apparent prejudice shouldn't be seen as an attack on law enforcement, and that he knew officers had "a dangerous job."
"If communities are mistrustful of the police, that makes those law enforcement officers who are doing a great job and are doing the right thing, it makes their lives harder," Obama said. "So when people say 'Black Lives Matter,' that doesn't mean blue lives don't matter; it just means all lives matter, but right now the big concern is the fact that the data shows black folks are more vulnerable to these kinds of incidents."
But Thursday's deadly attack on police officers is certain to exacerbate the political tensions and frustrations surrounding the issue. Calling the shootings "heartbreaking,'' Dallas Mayor Mike Rawlings called on leaders to choose their words carefully during the time of heightened tension.
"Words matter,'' he said. "Leadership matters at this time."
"It is a heartbreaking morning,'' Rawlings said. "To say that our police officers put their lives on the line every single day is no hyperbole."

"It has been a devastating night,'' The Dallas Police Department said in a tweet early Friday morning.