business
Mistaken Suspect in Dallas Massacre Says He Was 'Defamed'
Mark Hughes and his family have received numerous death threats, his attorney said.
By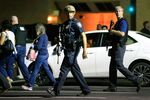 As the sniper attack that left five police officers dead in Dallas unfolded on Thursday evening, the police department sent out a tweet asking the public to help find a suspect. It attached a photograph of a black man wearing camouflage and carrying a long gun, later identified as Mark Hughes.
Hughes turned himself in and was cleared of any wrongdoing, but his image remained on the Dallas Police Department Twitter page. The department said it had no comment on the matter and no information on whether the image would be removed. Hughes cooperated with authorities and was "not a suspect/person of interest," Dallas Public Information Officer Emily Black said in a separate tweet on Friday morning.
But Hughes is now permanently linked to the event. He and his family have received multiple death threats, his attorney, Corwyn Davis, said in an interview. As a safety precaution, Hughes didn't return to his home yesterday evening. 
Correcting public perception after the fact is a difficult process, said Donelson R. Forsyth, a professor at the University of Richmond who studies mob mentality. 
"Mobs aren't really self-correcting. They don't have the capacity to fact-check, to think slowly, to be rational," he said. "Once a mistake is made, it's almost impossible to retract." 
Hughes told KTVT he was held in an interrogation room for 30 minutes and that police officers claimed they had video evidence of his involvement in the shooting. 
"I can't believe it," he said. "We received a phone call that my face was on there as a suspect, and immediately I flagged down a police officer." He added: "The system was trying to get me. Now you all have my face on national news, are you all going to come out and say this young man had nothing to do with it?"
Davis said that right now the most important issue is the attack on the police. In addition to the five slain officers, at least half a dozen were wounded.
Still, he said of his client, "he was essentially defamed. I don't know if that will lead to any kind of legal suit. I think it's too early to think of anything like that. He was just a man who was protesting peacefully. He was exercising his right and cooperating with officers. I think it's understandable that right now he feels a little slighted." 
The shooting broke out during a Black Lives Matter march held in honor of Alton Sterling and Philando Castile, the two black men killed by police officers this week in Louisiana and Minnesota. The gunman shot from above, using a sniper stance to target police officers stationed around the protesters. 
The suspect, who said he acted alone and wasn't affiliated with any group, was killed with a bomb-detonating robot after negotiations with police broke down. Speaking at a news conference on Friday morning, Police Chief David Brown said the suspect expressed frustration with the recent police shootings and with white people in general.
"The suspect stated he wanted to kill white people, especially white officers," he said "He wanted to kill officers." Local authorities declined to identify the suspect or release images of him. An investigation is ongoing. 
In the aftermath of the Boston Marathon bombing, Sunil Tripathi was wrongly identified as a suspect by both journalists and social media forums. The news website Daily Beast wrongly identified the San Bernardino gunman. Numerous news outlets identified the wrong Lanza brother as the Sandy Hook Elementary School gunman.
Though the errors were eventually corrected, those inaccurately linked to the crimes continued to see their Google search results flooded with misinformation, and their social media pages are often shut down after a stream of harassing posts. 
Hughes "was not treated with any humanity or respect," Davis said of his client. "If you have a person who comes in and is trying to help you with your case ... you don't treat them like that."
Before it's here, it's on the Bloomberg Terminal.
LEARN MORE