Masters in Politics Podcast
Trevor Noah: Trump Won't Appear on 'The Daily Show' Because He'd Be 'Tested'
Still, like his predecessor, Jon Stewart, Noah regards Trump as the comedic gift that keeps on giving.
By and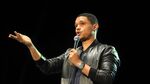 Trevor Noah would love to interview Donald Trump on The Daily Show, but says he doesn't expect the presumptive Republican nominee will be booking an appearance anytime soon.
"We'd have him on the show, I don't know what he would say," Noah told Bloomberg Politics' Masters in Politics podcast, adding, "I don't think he would ever come. I think Donald Trump purposefully stays away from places where he feels like he'll be tested so I don't think that would ever happen."
Still, like his predecessor, Jon Stewart, Noah regards Trump as the comedic gift that keeps on giving. 
"A man who comes out in support of Saddam Hussein? Every single day, we sit in the office and we say, 'Donald Trump surely surely cannot say anything crazier than this,' and every day he says something that shocks us. I don't know how he does it, he's a force of nature and you have to commend him for that."
While Noah said he's still "growing" into his role as The Daily Show host, he often reflects on parting advice Stewart gave him. 
"He said, 'This is now your journey. I am tired and I am angry, you are not. You will grow to be tired, you will grow to be angry, but at least you can approach it with the vigor of youth,'" Noah said. 
'Historic Defeat'
In the second half of this episode of Masters in Politics, Stuart Stevens, Republican strategist and the author of the new novel The Innocent Have Nothing to Fear, reflects on Trump's chances of winning the presidency. 
"He can't argue a case in five logical sentences. Everything is about him. He reacts to everything," Stevens said. "I think he's going to go down to historic defeat."
Stevens also said he thinks Trump will pick Newt Gingrich as a running mate because the former U.S. House speaker is "a known quantity" and good debater. 
While Stevens said he believes that Clinton has been doing a much better job at attacking Trump than the Republican's primary rivals did, he sees the former secretary of state's e-mail troubles as a major obstacle for her White House bid. 
"I think clearly there's been a lot of denial about this that I suspect is not from the campaign but is from Hillary Clinton and maybe her close family circle," Stevens said. "She clearly should have admitted this was a terrible mistake. She surely should have apologized. She clearly should have turned everything over. Americans are very forgiving but they want you to go to Betty Ford first and she's tried to deny this, she's given a million different stories about it."
Before it's here, it's on the Bloomberg Terminal.
LEARN MORE