Le Mans Car Auction Features Peugeot Camper Van for Nostalgics
by
115 rare cars to be sold at home of prestigious 24-hour race

Highlight is 1978 camper, complete with original toilet brush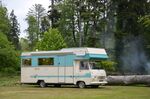 Nostalgic for a sunny road trip in the French countryside of the 1970s?
More than 100 rare cars will be auctioned off on Saturday in the French town of Le Mans, home of the prestigious 24 Hours car race, with some that may sell for close to 10 million euros ($11.1 million), according to Artcurial, the Paris-based luxury auction house that's running the sale. A 1978 Peugeot J7 camper van could take center stage amid all the Ferraris and Porsches.
The old van stands out in the catalog for the sale, which also features an 80-year-old British-made car, a Riley Sprite Sports, and a 1949 Delahaye Berlinette that was once a star on car circuits, with a svelte figure that is typical of the style in fashion after World War II.
As with any of the vehicles on offer, the Peugeot van is about a dream, Pierre Novikoff, deputy director of Artcurial, said in a phone interview.
"It is incredible. It has the smell of the '70s, it's like traveling in time," he said. "What people are looking for is to find again either their childhood memories or their childhood dreams."
Time Warp
The van is virtually stuck in France's rural '70s, when carmakers started mass-producing fully equipped recreational vehicles, a few years after colorful vans had become symbols for hippies and freedom during the late 1960s.
Its owner, a French retiree who asked to remain anonymous, according to Artcurial, meticulously maintained the caravan, to the point that the 38-year-old vehicle and its equipment -- including its original unused toilet brush -- are in perfect condition. Even the oven and the gas stove still fire up.
The owner didn't spend much time on the French roads: The odometer shows only 37,000 kilometers (23,000 miles).
Six people have shown interest in the camper before the auction, Novikoff said. The van's young looks add to its value, which Artcurial estimates at as much as 20,000 euros.
Dining Rooms
Made by the now-defunct French manufacturer Société des usines Chausson for Peugeot until 1980, the van has existed in different forms including ambulances and firetrucks. If the first camping cars were bare refitted vans, this one has two dining room suites and with three beds has enough room to accommodate up to 14 passengers.
Those who'd rather hit the road in a more private setting will be able to bid on a 1947 two-seater Delage Competition. Rich car nuts flying to Le Mans with their private jets will also have an opportunity to put a price of a 1967 Ferrari 330 GTS convertible, a model of which fewer than 100 were made, and a 1977 Porsche 935 racing car that participated in the 24 Hours at Le Mans. Bids on the Ferrari may reach 1.9 million euros, while the Porsche may fetch as much as 1.5 million euros.
Before it's here, it's on the Bloomberg Terminal.
LEARN MORE