Jobs Number to Reassure Fed 2016 Rate Hike Is Still Possible
By and
Trend rate for labor market on a slower but still solid path

Most economists expect Fed to stay cautious, await more data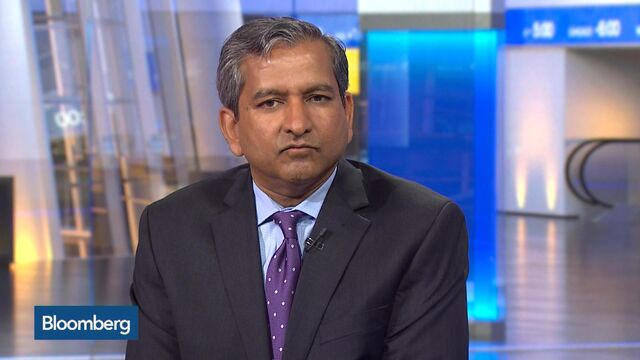 A solid rebound in the U.S. labor market in June following a dismal May will ease worries at the Federal Reserve about the underlying health of the U.S. economy and keep officials open to raising interest rates this year.
"The Fed will breathe a bit of a sigh of relief," said Joseph LaVorgna, chief U.S. economist at Deutsche Bank Securities Inc. in New York. "This is going to give them a little bit of comfort, and my guess is they'll repeat that, if their forecast plays out, they'll move this year."
The May jobs report appeared to spook the central bank and convinced investors the Fed would keep rates on hold all year, a sentiment reinforced by the U.K.'s vote on June 23 to exit the European Union, which increased concerns over the outlook for global growth.
Though most Fed officials have continued to signal a desire to raise rates at least once in 2016, minutes from the Fed's June 14-15 meeting, released on Wednesday, showed the Federal Open Market Committee "generally agreed" they needed to see more data before contemplating another hike.
The Labor Department reported employers added 287,000 workers in June, driven in part by stronger hiring by restaurants, retailers, and health-care providers. May job growth was revised down, to 11,000 from 38,000. The number of people working part time in June who would have preferred full-time employment plunged to the lowest level since October, helping to unwind the negative news from May.

Investors upped the probability of a rate hike by December to around 25 percent following the data, according to pricing in federal funds futures contracts, compared to 12 percent on Thursday.
Omair Sharif, senior U.S. economist at Societe Generale in New York, said the Fed won't overreact to one strong report any more than it would to a single weak one, but that the trend pace for new jobs in 2016, while lower than 2015, is still positive. Monthly non-farm payroll gains averaged almost 230,000 in 2015 and are running at 172,000 so far this year.
"That's more than enough to absorb growth in the labor force and put downward pressure on unemployment," said Sharif. "Even with the slowdown, this is more than good enough for Fed officials."
School's Out for Summer, and It Messed With U.S. Jobs Numbers
Sharif added that policy makers will be especially encouraged by a bounce back in hiring by employers in the retail sector and in leisure and hospitality, as that will dampen fears of a slowdown in consumer spending, the main engine of growth in the U.S.
The news, meanwhile, could also reignite worries that a tightening labor market will soon generate higher inflation.
"There will be enough clarity in September" for the Fed to raise rates "if clarity is what they are actually looking for," said Chris Rupkey, chief financial economist at Bank of Tokyo-Mitsubishi UFJ Ltd in New York. "Pressures are building here -- the unemployment rate is down below 5 percent." Rupkey forecasts rate increases in September and December.
The Fed next meets on July 26-27 and then Sept. 20-21. A final meeting before the November presidential election will take place Nov. 1-2.
Still, most economists interviewed after the jobs report saw little urgency. Average hourly earnings rose just 0.1 percent in June despite the hefty hiring numbers. The labor force participation rate ticked up by 0.1 percentage point, to 62.7 percent, and the jobless rate rose to 4.9 percent from 4.7 percent as more people entered the labor force.
Evidence Needed
"It doesn't mean the Fed will move any sooner," said Stuart Hoffman, chief economist at PNC Financial Services Group Inc. in Pittsburgh. "They're going to wait to see evidence that the third-quarter growth in the U.S. held up" and until after the election, he said.
Hoffman stuck with his expectation that the Fed will raise rates in December.
Clouds over the outlook for global growth will also likely keep the officials cautious. The June minutes showed the FOMC is watching China and other emerging markets over exchange-rate and debt concerns. And since the Brexit vote, several Fed officials have said it's too soon to tell how the decision will affect growth in Britain or the U.S.