El-Erian Recommends U.K. Real Estate Wager, With Patience
by and
'Let the opportunities come to you,' Allianz executive says

Sector faces forced deleveraging after overpromising liquidity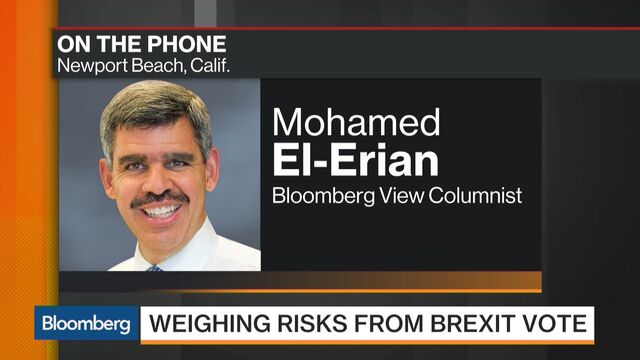 Allianz SE's Mohamed El-Erian said that the forced deleveraging of U.K. commercial properties after the Brexit vote may spur opportunities for investors.
"If you're a patient investor, with a stomach for mark-to-market volatility and quasi-permanent capital, that is going to be a very attractive area," El-Erian said in an interview Friday with Bloomberg Television. "But wait, let the opportunities come to you."
Last month's decision by U.K. voters to leave the European Union has triggered concern real estate values in that nation will tumble. U.K. property funds have been freezing withdrawals as investors seek to exit holdings of real estate and reduce exposure to the sector. Aberdeen Fund Managers Ltd. cut the value of a property fund 17 percent this week, while also suspending redemptions.
"It is a sector that over-promised liquidity," said El-Erian, who is chief economic adviser at Munich-based Allianz and a Bloomberg View columnist. "It put illiquid assets in open-ended vehicles, which is never a good idea. And what you're going to see over the next few weeks and months is distressed sales."
El-Erian also commented on the U.S. jobs figures from the Labor Department, which showed that employers added 287,000 workers last month, rebounding from May. The numbers imply that the Federal Reserve may have some room to increase interest rates this year, countering the sentiment that the central bank might be sidelined, he said. The economy still needs to see labor participation pick up and more wage growth, El-Erian said.
"If we continue to get this type of jobs report, we may end up with one hike this year," he said. "The trends are that this economy continues to grow. And it's not great, but it's OK."
Before it's here, it's on the Bloomberg Terminal.
LEARN MORE