Asian Stocks Sink as Yen Weighs on Japan, Hong Kong Shares Drop
by
Energy equities fall after oil declines to two-month low

Taiwan shuts financial markets as Typhoon Nepartak strikes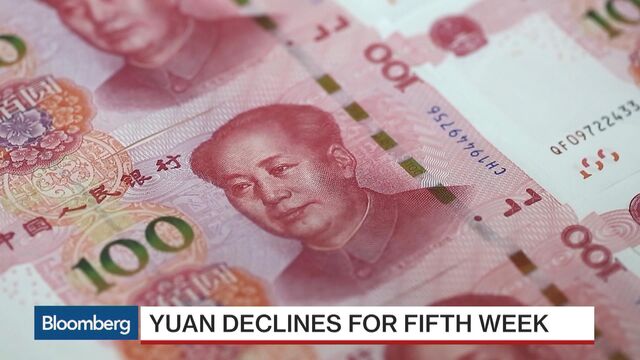 Asian stocks fell, capping a weekly decline, as a stronger yen weighed on Japanese shares and investors waited for a U.S. jobs report to assess its implications for monetary policy.
The MSCI Asia Pacific Index dropped 0.6 percent to 128.14 as of 4:10 p.m. in Hong Kong, taking its loss since July 1 to 1.2 percent, as concern over the fallout from the U.K.'s vote to leave the European Union returned, boosting haven assets such as Japan's currency. Energy shares declined as crude fell to the lowest in almost two months on renewed fears of oversupply. Taiwan shut financial markets and some offices Friday as Typhoon Nepartak hit the island's eastern coast, killing at least one and forcing thousands to be evacuated.
"The main problem for Japanese equities at this stage is earnings growth and that's negatively impacted by the strength we've seen in the yen," Adrian Zuercher, head of Asia asset allocation at the private banking arm of UBS AG, told Bloomberg TV in Hong Kong. "As long as we move forward at these levels with the yen, we still have headwinds in terms of earnings. The U.K. referendum has ushered in a period of heightened uncertainty."
U.S. jobs data Friday brings the focus back to the world's largest economy after Britain's shock vote to leave the EU and anxiety over Italian banks rattled confidence. Investors are keen to see if the addition of just 38,000 jobs in May was an anomaly. Officials at the U.S. central bank flagged concern over employment creation at their last meeting, which was held before the British referendum roiled markets.

Japan's Topix index reversed gains to fall 1.3 percent, extending its weekly decline to 3.6 percent. The Topix is down 22 percent this year, in line with the yen's 19 percent surge against the dollar. Pressure is building on the Bank of Japan to respond, Nicholas Smith, a Tokyo-based strategist at CLSA Ltd., told Bloomberg TV.
Japanese voters head to the polls Sunday for an upper-house election that Prime Minister Shinzo Abe has billed as a gauge of backing for his economic policies. Voting starts at 7 a.m. and closes at 8 p.m., with official results trickling out later in the evening.
"Global risk appetite is absolutely in the tank at the moment," said CLSA's Smith. "There's very little they can do to weaken the yen further. We've had our nasty shock from Brexit and one would assume that the effect of the Brexit scare is going to lessen over time, but I wouldn't put a lot of hope in the yen weakening much from here."
Nintendo surged 8.9 percent, the largest increase on the Asia Pacific index, after the firm's new mobile-game app, Pokemon Go, climbed to the top of the free-to-use charts for Apple Inc. in the U.S. and Australia. Asahi Glass Co. slumped 8.2 percent after a report in the Nikkei newspaper that the company's first-half sales will be about 630 billion yen ($6.3 billion).
Political gridlock in Australia is dragging on with ballot papers still being counted. Prime Minister Malcolm Turnbull's Liberal-National coalition is increasingly confident it won the weekend election as vote counting indicates it has pulled ahead of the opposition Labor party. The S&P/ASX 200 Index closed up 0.1 percent on Friday.
Singapore's Straits Times Index fell 0.6 percent, as did South Korea's Kospi Index dropped 0.6 percent. New Zealand's S&P/NZX 50 Index retreated 0.1 percent, Hong Kong's Hang Seng Index slid 0.7 percent and the Shanghai Composite Index lost 1 percent.
E-mini futures on the S&P 500 Index rose 0.2 percent, after the underlying equity measure slipped 0.1 percent on Thursday, led by energy shares. Brent crude rebounded 0.9 percent after tumbling 4.9 percent Thursday as U.S. crude stockpiles fell less than expected.

It's been a turbulent year for investors in the Asia Pacific region. The regional index began the year with a 14 percent slump through a February low on concern about a slowdown in China and the falling price of oil, and amid prospects for a U.S. rate rise. The measure then rallied 19 percent through this year's peak in April before retreating again. It's down 2.9 percent in 2016.
Before it's here, it's on the Bloomberg Terminal.
LEARN MORE